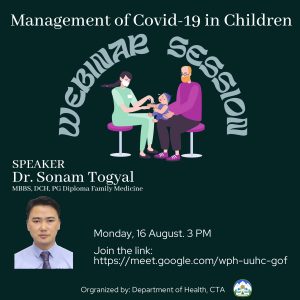 Dharamshala: The Department of Health (DOHe), CTA organised a webinar session on management of Covid-19 in Children on 16th August, 2021 for the medical officers and nurses.
A total of 45 settlement officers, hospital administrators, medical officers and nurses from various settlements participated in this online program. The aim of this program for health workers is to do capacity building of health workers to fight against the 3rd wave of Covid-19. Program facilitator Mr. Tsering welcomed the attendees and explained the objectives.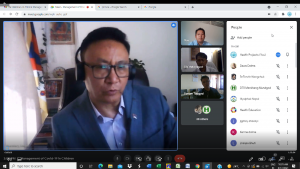 Health Secretary, Mr Palden Dhondup in his opening remark spoke on readiness and preparedness against the possible third wave of pandemic, high transmission rate of Delta plus variant and its impact, and children being at higher risk in 3rd wave as suggested by health experts. Secretary appreciated the speaker Dr. Sonam Topgyal la for his time and sharing knowledge on such important topic with the participants.
Dr. Sonam Topgyal la spoke about pediatric Covid-19 in India, epidemiology of Covid-19 among children, 3rd wave impact on children, when to suspect Covid-19, clinical phenotypes of Covid-19 in Children, assessment of severity, mild disease and management, examination, symptomatic treatment, management of moderate disease and specific treatment, Covid-19 severe disease treatment and Multisystem Inflammatory Syndrome (MIS) in Children.
The one hour involved session was followed by a Q&A discussion in which medical officers and senior nurses had actively participated.