Delek Hospital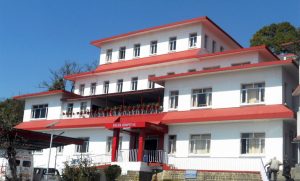 Nestled along the north western foothills of the Himalayas, Tibetan Delek Hospital has been providing health care services in Dharamsala for over forty years. The visionary behind Tibetan Delek Hospital was Mr. Tsewang Rinchen Rishing who proposed the founding of an allopathic medical service to cope with the many health problems in our refugee community. With His Holiness the XIV Dalai Lama's blessings, Tibetan Welfare Delek Hospital was officially inaugurated on October 4th, 1971. The hospital was formally handed over to the Central Tibetan Administration (CTA) on January 1, 1979, and renamed the Tibetan Delek Hospital.
Although distinctly autonomous in its administration and funding, the hospital falls under the auspices of the Department of Health, chief supervisor of all health care delivery among Tibetans in exile. The Tibetan Delek Hospital functions on income-generating projects in order to be more self-sufficient.
The hospital services are offered either at minimal rates or, in cases of genuine need, free of charge. Most of the hospital's funding is provided by generous donations from dedicated supporters and contributors. Over the past 40 years, the hospital's range of services has increased from a small dispensary to a multi-facility hospital with 45 patient beds.
Website: delekhospital.org/delek