Delek Hospital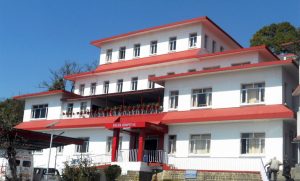 Delek Hospital is autonomous in their administration and funding.
Patron
With blessings from His Holiness the Dalai Lama, the CTA (Central Tibetan Administration), the Indian government, and especially our overseas donors, Delek Hospital has witnessed immense progress and achieved a number of its goals despite all odds. 
Goal
Registered as a charitable institution, Delek Hospital's main goal has been not only treating the ill but also helping the underprivileged and the under-resourced. We make it our top priority to provide the best medical treatment for our patients.
Aims & Objectives
To provide the best care to our underprivileged and low-income patients without distinction of caste, creed, race, religion, sex and nationality.
To stay up to date as a modern standardized hospital while functioning as an independent institution in order to provide the best health services to our community.
To promote health education and health progammes for Tibetans residing in the state of Himachal Pradesh after tending to the needs of the local people.
To nurture our professional health/medical staff.
Mission Statement
We, at Delek Hospital, are committed to serve all those who come to us despite their gender, race, religion, country of origin or socioeconomic status. We treat all people in a compassionate and respectful manner, providing them the finest treatment commensurate with our resources.
Introduction
With the approval and blessing from His Holiness in 1971, Mr. Tsewang Rinchen Rishing built Delek Hospital. During that time, the hospital consisted of a small outpatient clinic and pharmacy. The staff consisted of an administrator, nurse, pharmacist, a visiting doctor, and an assistant, with a total of five staff members.
On January 1st, 1979, Mr. Rishing handed the hospital and its staff over to the Central Tibetan Administration (CTA). The CTA then changed its name from "Tibetan Welfare Delek Hospital" to 'Tibetan Delek Hospital' and appointed new staff members to the hospital. During that time the outpatient clinic was the only department.  Delek Hospital eventually registered itself as a charitable institution as per under Indian law and regulations. Therefore, all income and expenditures, especially foreign contributions, are accounted by the Indian government. Delek has now become a full-fledged hospital with 45 beds divided into general and TB wards. Delek being an autonomous body runs under its Board of Directors.             
Past & Present Delek Administrators
Kelsang Yangkyi Takla Jan. 1st 1979   – Dec. 31st 1983
Samkhar Yangkyee Dashi Jan 1st 1984    – Oct 31st 1989
Dekyi Khedup Jan 1st 1989    – April 30th 1993
Dr. Tsetan D. Sadutshang May 1st 1993 – Dec. 31st 2005
Dawa Phunkyi Jan 1st 2006    – Present
Delek Progression
As different diseases continue to re-emerge in the Tibetan society, Delek continues to invest in the overall development of the hospital to combat these challenges. In an effort to expand its services to the local community and to generate income, Delek built a three-story branch clinic in Mcleod Ganj. In 1989, Delek also built a three-story staff housing to accommodate its staff members and to generate income from rent.
Dharamsala being the seat of both His Holiness the Dalai Lama and the CTA, the Tibetan population in the area continues to increase. In response to the growing demand for health care, Delek created an exemplary training center to update the skills and knowledge of health workers from various Tibetan settlements under the Department of Health (DoH). Delek also initiated community health projects to promote healthy lifestyle and provide preventive medical care to far flung settlements recognizing its importance for long-term health benefits of the community.
In 2001, Delek built a four-story modern hospital with basic facilities, with the financial support from Italy's Ministry of Foreign Affairs through the NGO AISPO. This new building comprised of a well equipped laboratory and a pharmacy besides inpatient and outpatient facilities.
Construction of Delek's resident doctor's quarter
A long time supporter of Delek and the former president of Stitching Hulp Aan Tibetanen (SHAT), an organization that has supported Delek's public health projects, late Mrs. Ellen Rose left Delek a substantial amount of money in her will. With the approval from SHAT's board members, Delek used the money to build a four-story residence for its doctors in 2013. Delek initially bought the land with help of the US-based Friends of Delek, founded by Dr. Zorba Paster. This building, which has a total of eight apartments, was inaugurated on October 22nd, 2014.
Administrative Structure
Although distinctly autonomous in its administration and funding, the hospital falls under the auspices of the Department of Health of the Central Tibetan Administration (CTA), the umbrella for all health care delivery for Tibetans in exile. The hospital has nine members in its governing board. The administrator, assisted by the Chief Medical Officer and the Hospital Secretary, oversees the day-to-day administrative work.
Financial Status
As an autonomous institution, Delek hospital manages its own administrative expenditures and development projects. Delek also has the additional responsibility of overseeing the health care of 19 Tibetan settlements in Himachal Pradesh. Since Delek generates its income solely from its bank interests and rent from a few shops, most of the hospital's income comes from individual donors and international donor organizations.
With strong support from donors and well-wishers around the world, Delek is financially stable at present. However, in order to avoid a financial crisis in the future, Delek has created a Corpus Fund should there come a time when funds dry up.
Delek's Corpus Fund
In order to ensure Delek's long-term financial stability, the Corpus Fund was created in 2007.
Responsibility of Delek Hospital
True to its name and purpose, Delek Hospital caters to patients from all backgrounds and socioeconomic tiers. Over the years, it has continued to deliver high-quality medical services to the local community, providing primary care for Tibetans, Indians and foreign tourists living in the Upper Dharamsala region. However, Delek takes special care of Tibetans suffering with tuberculosis living in India, Nepal, and Bhutan. Fee subsidies are available for both CTA members and the underprivileged.
The general Out-patient Department attends to patients of all age groups, providing antenatal care and vaccinations for children below the age of five. Patients admitted to the hospital are under 24-hour supervision. The hospital then bears the responsibility to refer patients to higher centers in the event that they need more specialized care. Public health emergencies, such as outbreaks of gastroenteritis, dengue fever, and other infectious diseases in boarding schools and institutions nearby, are routinely attended to by the hospital.
HOSPITAL DEPARTMENTS
In-patient Department: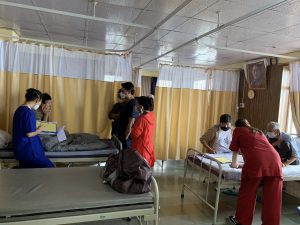 Delek has an in-patient capacity of 45 beds including TB inpatients. Round-the-clock care is provided with the help of 13 nurses and a Head nurse/Matron. Other facilities available for in-patients include an operating/emergency room (for minor surgery), recovery room, delivery room, E.C.G., heart monitoring and other laboratory services.
Out-patient (OPD) Department: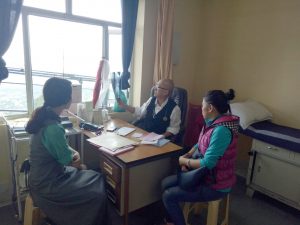 Delek Hospital's OPD is open Monday to Saturday 9:00am to1:00pm. It is open to all, with a registration charge of Rs. 10/-
Laboratory Department: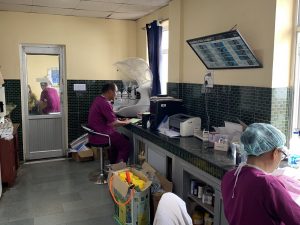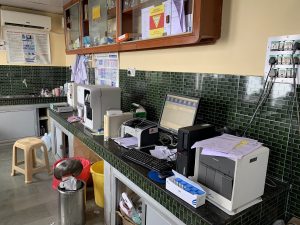 The Laboratory and X-ray Department is well equipped and staffed by four full-time technicians who perform basic hematology and biochemistry tests. There is continues development of this department which has led to the acquisition of a Digital X-ray and GeneXpert (to detect MDR TB) machines. As of today, Delek has trained 12 health personnel in basic laboratory investigation and 5 personnel in X-ray. Our laboratory is considered one of the best in the state of Himachal Pradesh.
Pharmacy Department: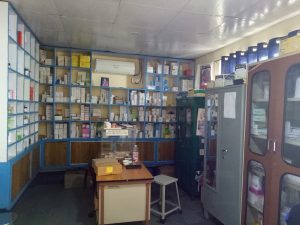 Two Delek pharmacists are legally certified to sell medicines. The department has one additional staff working as a cashier. To ensure the best quality medicines, the drugs are purchased only from multi-national companies. A special committee, consisting of the Chief Medical Officer, Pharmacists and Accountant supervise the quality of the drugs. Only then are the medicines sold to the patients at cost price.
Dental Clinic:
The dental clinic provides services such as: scaling, dental fillings, tooth extractions, and root canal treatment. A qualified dentist and dental therapist run the clinic.
Eye Clinic:
This eye clinic department was staffed by just one ophthalmic technician. And although the clinic was well equipped with modern facilities, the technician resigned in April 2016. Since then, the hospital hasn't received a single applicant for this post due to a lack of qualified candidates in the Tibetan community.
Since 2000, Delek Hospital has been organizing a highly successful Free Cataract Surgery Camp. It is an annual collaboration with a Japanese professional eye surgery from Association of Ophthalmic Cooperation in Asia (AOCA) and the Rotary Club in Dharamsala. The local Indian populations are the main beneficiaries of this camp.
TB Clinic:
Tuberculosis is one of the biggest public health challenges in the Tibetan population. Thus, Delek hospital has a separate wing for TB Out-patients as well as In-patient isolation rooms for those with highly infectious and drug resistant TB. The treatment of all TB patients is directly supervised at various DOT (Directly Observed Treatment) centers affiliated with the hospital. Delek Hospital is also an officially Designated Microscopy Center (DMC) for the Revised National TB Control Programme (RNTCP) under the Government of India. Delek is able to provide TB diagnostic and treatment facilities to all TB patients and that too with complete free treatment for both the MDR and Standard TB. Over the past year, Delek Hospital has extended its multi-drug resistant TB (MDR-TB) diagnostic services along with the GeneXpert tests to the districts of Kangra and Una in Himachal Pradesh.
Delek Branch Community Health Care Clinic (CHCC)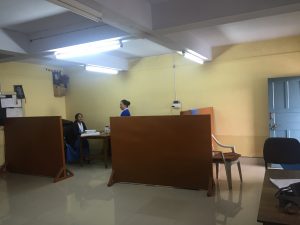 Delek also has a branch for Community Health Care Clinic in Mcleod Ganj which provides Out-Patient services from 9:00am to 5:00pm. The clinic sees an average of 25 patients per day, including TB-DOT patients. The clinic has one nurse in-charge who supervises its day to day work with one nurse assistant on a rotation basis. One doctor from the hospital visits the clinic twice a week on a rotation basis.
Hospital Kitchen
At the moment there is one cook in the hospital kitchen. The kitchen serves food to In-Patients at a daily cost of Rs. 30/- per patient for three meals and includes mid-morning and afternoon tea. Many of our staff also have their lunch at the kitchen to save time from cooking during week days. Despite the nominal meal price, the hospital does not compromise the quality of food, providing fruits, eggs and meat every day. 
Other Services Include
Upper G.I. Endoscopy – Weekly by Dr. Tsetan Sadutshang
Antenatal Care – Every Thursday by a visiting Gynecologist from Fortis at Kangra.
Emergency Service
Ambulance Service
Executive Health Check up Plan (Full body check up)
 
Medical Equipment
Delek Hospital makes sure that its facilities and medical equipment are up to date.
Hospital Vehicle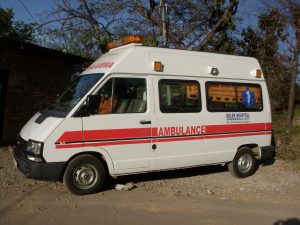 1 well equipped ambulance
1 separate vehicle to transport corpse
2 vehicles for general hospital use
TB Control Project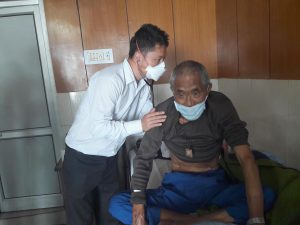 Delek Hospital started its TB control project in 1980. This project was created because of the alarmingly high rates of tuberculosis in the Tibetan community. Over the last few decades, Delek has saved thousands of TB patients' lives and prevented TB cases with educational campaigns. With the help of the CTA, the Indian government, and especially our donors, we continue to run our TB control project with very successful outcomes. However, the biggest challenge has been treating MDR and XDR TB patients, which consumes majority of our TB expenses. 
In order to strengthen and expand our work on reducing the TB burden significantly in the community, Delek increased its effort in its public outreach, especially among students in order to detect both latent and active TB by screening each individual in schools, monasteries and nunneries. Thus Delek implemented new initiatives, such as TB Reach Project funded by AISPO Italy in the past and the ongoing Zero TB in Kids Project funded by Johns Hopkins University TB Research Center, US.
Outreach Service
As of now, the health status of Tibetan settlements in Himachal Pradesh has improved compared to previous years, most notably in the reduction of TB rates. However, in the midst of TB outbreaks, Delek sends out its TB team consisting of a doctor, nurse, and lab technician who conduct contact tracing. In Dharamsala, Delek travels to the McLeod branch clinic twice a week and the Old Age Homes once a week.
Health Training Program
Since 1981, Delek Hospital has been delivering basic community health worker training after recognizing the need for community health workers (CHWs). To date, we have trained 286 CHWs and held 17 refresher courses for 204 health workers. These courses intend to update the skills and knowledge of the community health workers.
With the help from Action Health, a UK foundation, Delek was able to provide dental therapist training to eight Tibetan students. The DoH then appointed them to clinics in various Tibetan settlements across India.
New Private Out-Patient Department                                                                    
On February 6th, 2016, Dr. Tsering Wangchuk, CTA's Health Kalon, inaugurated Delek's new Private Out Patients' Department. Both Dr. Wangchuk and Dr. Tseten Sadutshang, the Chief Medical Officer of Delek, highlighted the importance of healthy living and urged Tibetans to utilize the health services provided at Delek. This new OPD was aimed to serve the healthcare needs of the Tibetan community.
Elderly Assistance
Many years ago, Canadian citizens Brian Stanko started to sponsor a project thatprovided stipends to 13 single elderly individuals in Dharamsala to improve their living situations. In 2007, Delek Hospital took over this project and has since been helping these single elderly individuals. Now only three elders remain alive from 13 in the beginning as they all gradually passed away.        
Delek House – A home for referred patients
In order to meet the need of an affordable accommodation longing for those Tibetan patients undergoing treatment in Chandigarh, Delek administration decided to construct a house close to PGI in Chandigarh to accommodate the needy patients.
With funding from Choyulpa family in Switzerland, in loving memory of their parents, and luckily a land contribution from the President of the Tibetan Children's Village, Delek was able to build onto an already existing TCV's building close to PGI, to include two-story Delek patient's hostel which is now in operation.  
It was inaugurated by the Choyulpa family and was later blessed by HH the 42nd Sakya Trizin Ratna Vajra Rinpoche. It was opened to patients from 1st of May 2019 on a first come first serve basis with a nominal room rent and is running well.
Currently the hostel is being run by two full time qualified nursing staff whose duty includes coordinating patient referrals from Delek, making appointments and accompanying patients to the hospital. They also collect laboratory and image reports and even after patients leave Chandigarh they help with follow ups which are crucial. Above this busy schedule they also take care of the patient hostel maintenance.
Delek Fitness Center (GYM)
Aiming to promote a healthy community in general, and to prevent various life threatening diseases in particular, Delek took the responsibility of opening a fitness center for the Tibetan community in Dharamsala.
The funding for this new initiative has been supported by the Health Department of the Central Tibetan Administration (CTA) and the Gym was inaugurated by CTA's Health Kalon (Minister) Mr. Choekyong Wangchuk on the 29th of July 2019.
In order to cover the maintenance of the equipment, the Delek administration charges a nominal fee from the members and for those who are insured under the Health department's Medicare System will get a 50% discount on their monthly fee as an incentive.                                                                                 
Delek's Community Service (Outside Delek)
–           Installation of new toilets in the Old People's Homes in Tezu, Tibetan Settlement.
–           Administration of free Hepatitis B vaccination shots to the local community in Tezu to strengthen the ties between the locals and the Tibetan community.
–           Installation of a basketball court in the Hunsur Tibetan settlement in South India to promote active, healthy lifestyles among the Tibetan youth.
–           Donation of two X-Ray machines to the Bir Tibetan Primary Health Center.
–           Construction of two water tanks for Bir and Tashi Jong Tibetan settlements.
–           Establishment of clinics for all three Tibetan settlements in Sataun, Puruwala, and Kamrao.
–           Donation of a new vehicle for the health clinic in Hunsur.
–           Donation of a GeneXpert machine to the Tibetan hospitals in Mundgod and Bylakuppe.
–           Establishment of a new medical clinic in Leh, Ladakh.
–           Donation of one Seimen X-Ray machine to Tso-je Hospital in Bylakuppe.
–           Donation of a new ambulance (Maruti Van) and dental chair to Sakya -Hospital in Rajpur, Dheradun.            
–           Renovation of bathrooms and toilets at Jampaling Old Peoples' Home in Dharamsala.
Delek's Recognition for Outstanding Community Service
–           Regional Tibetan Youth Congress – 1980's.
–           In April 2006 Norbulingka Tibetan Culture Center donated three large paintings.
–           In 2007 Delhi based Voluntary Health Association of India (VHAI) awarded Delek with the prestigious Anadi- Kamal Award.
–           Kochen TB Award – WHO
–           Tong-Len – 2016
–           Tibetan Settlement Office, Dharamsala – 2017
–           Rotary Club Dharamsala – 1998, 2000, 2002, 2005, 2011 & 2015
–           Fortis Hospital, Kangra – 2018
–           District TB Division, Kangra, H.P for "Best supporter of RNTCP (Revised National Tuberculosis Control Project"
 Delek's recognition for TB Control Program
In October 2014, the World Health Organization (W.H.O.) nominated Delek Hospital with for its Stop TB Partnership Kochen Prize Award in recognition of Delek's outstanding community health service and appropriate utilization of the TB project funds. However, due to pressure from the Peoples Republic of China, Delek was withdrawn from the nominations. After the Wall Street Journal published this story, Delek received recognition and publicity for its work, resulting in donations from many sympathizers. Thereafter Delek received many donations with sympathy from various organizations such as:            
–           Doctors without Borders (Geneva Based)
–           Verein Tibetfrunde (Swiss Based)
–           PATA (U.S. Based)
–           An anonymous donor through Friends of Delek has promised $100,000 (USD) every year for the ongoing Tibetan Control TB project at Delek.
Delek's Relationship with the Public
From the beginning, Delek has had a great relationship with the local government hospitals and offices in Dharamsala. To further build upon the relationship with the general public, Delek organises an annual eye camp in collaboration with the local Rotary Club to provide free cataract surgery for the underprivileged. In addition, whenever there is a need for medical assistance in the local villages, Delek sends its medical staff with necessary medical equipment.
Due to Delek's excellent reputation and medical services, foreign visitors feel comfortable in receiving emergency care at Delek. A number of foreign embassies have even shown their appreciation for Delek's service and rely on us for medical care of their citizens. Moreover, private hospitals located in big cities such as Delhi have expressed their wish to build partnerships with Delek.
 Delek's Staff
Currently, there are a total of 45 regular and 5 contractual staff members at Delek.
Administration (Office Staff)
One Chief Administrator
One Hospital Secretary
Two Accountants
One Receptionist
One Office Assistant (Peon)
Night Watchman
Two Drivers
One Cook
Three Cleaners
Medical Staff
One Chief Medical Officer
Seven Resident Doctors
One Dentist
Fourteen Nurses
One TB head nurse
 Paramedical Staff
One Dental Therapist
Two Pharmacists
One Biller/Cashier
Four Lab Technicians
 Website: delekhospital.org/delek