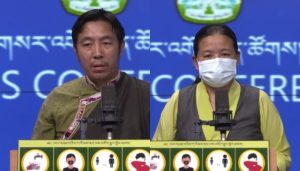 Dharamshala: Around 21,370 Tibetans in India and 1084 in Nepal have received at least one Covid-19 shot as the population inches closer to reaching herd immunity.
The pace of the vaccination drive in Tibetan settlements has accelerated over the past weeks due to the tireless efforts of settlement offices, Tibetan health care centres under the Health dept and the overwhelming support and sponsorship by Tibetan monastic institutes, philanthropic individuals and NGOs.
In Thursday briefing by the Covid-19 Task Force, Additional Secretary Jampa Phuntsok, Department of Health and Dr Tsering Tsamchoe, CCTM reported new progress in the vaccination drive currently underway in full vigour.
Almost 39.87 per cent of the adult population in Tibetan settlements in India has received atleast one dose, and 26.30 per cent of the 18-and-over group, which is 14,096, is fully vaccinated.
Meanwhile, in Nepal, 353 Tibetans (5.18 per cent) are fully inoculated and 1084 adults, which makes 15.92 per cent, has received the first shot. Around 15,311 (28.57 per cent) in India and 5374 (over 78 percent) are counted as unvaccinated.
While the vaccination effort of such a magnitude is unprecedented, the progress so far has been more than encouraging and indicative of effective executive implementations and social responsibility from every corner of society, noted Additional Sec Jampa Phuntsok.
He particularly appreciated Mentsee Khang for its production and timely distribution of Sorig immune boosters, in collaboration with the CTA, which has been crucial in bolstering the fight against Covid-19.
Over 36,000 Tibetans have received the Sorig immune boosters and benefited immensely in terms of health rejuvenation.
The Task Force reported 149 new infections as of this week – 54 female, 94 male with oldest being 96 and youngest aged 1 – bringing the total to 4953, with 4339 recoveries, 126 deaths, including two new deaths. The active case stands at 488.