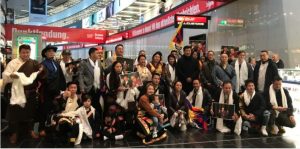 Geneva: In the face of unprecedented challenges of combating the Wuhan originated COVID-19 pandemic, members of the Tibetan Community in Austria and a Tibetan from Horgen Section of Switzerland initiated a financial contribution towards the arrangement of COVID-19 vaccine for needy Tibetans in India.
Joining the efforts of Central Tibetan Administration's preparation for arranging COVID-19 vaccine as and when the vaccine is ready, the Tibetan Community in Austria contributed a sum of EURO 3,298 (Three Thousand two Hundred and Ninety-Eight) to the Department of Health, Central Tibetan Administration. Similarly, Mr. Bokong Choekyi from Tibetan Community in Horgen section in Switzerland donated CHF 1000 towards facilitating the COVID-19 Vaccine for Tibetans in India.
Compared to enormous responsibilities untaken by the Department of Health of Central Tibetan Administration, including COVID 19 vaccine arrangement, the contribution amount is very little. However, members of the Tibetan community of Austria have taken the initiative to morally support the department in this challenging pandemic situation, said the President of the Tibetan Community-Austria, Mr. Tsering Namgyal.
Representative Chhimey Rigzen of the Tibet Bureau Geneva commended the initiative and kind gestures of contributing towards the COVID-19 vaccination drive for Tibetans in India.