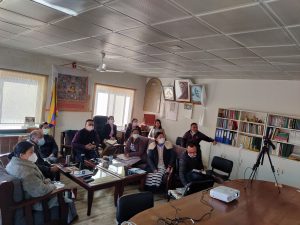 Dharamshala: Today, The TMS section of the Department of Health, CTA held the annual virtual meeting presided by Health Secretary Mr. Palden Dhondup with Tibetan Settlement Officers, Executive Secretaries of Hospitals and Primary Health Care Centers, and regional TMS staff. The annual meeting was held to discuss and set a target number of TMS members in the Tibetan Settlements.
The Secretary on the opening note reminded all the attendees when the program was first conceived and its implementation with a vision of maximum beneficiaries. He also addressed its course of change over the years to the present status. With the pandemic creating a heavy burden on the health system and havoc on the health of the general public. He emphasized its critical time that there needs to be a maximum number of enrollment.
The TMS Program Manager, Mr. Guru Nyima addressed the attendees on the target setting and change in percentage of subsidy from USAID from 50-50 to 60-40 moving towards a more self-reliant system. Following the queries and doubts from the regional TMS staff and TSO were answered and clarified. However, few suggestions were noted for a more inclusive system.
The TMS consultant Mr. Aloke Gupta explained the target for the financial year 22-23 of the respective settlements and answered the queries posed by the staff. Post that, the meeting was concluded. The meeting was in attendance of fifty people from 38 settlements.