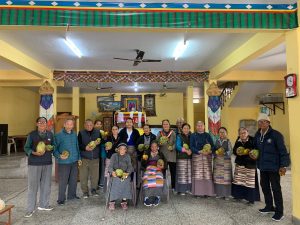 The Health Education Desk of the Department of Health, CTA observed World Diabetes Day on 14th November at Gangkyi as well as across the Tibetan Settlements through Tibetan Primary Health Care Centers and individual nurses stationed at smaller settlements.
Diabetes is a chronic (long-lasting) health condition that affects how your body turns food into energy.
Your body breaks down most of the food you eat into sugar (glucose) and releases it into your bloodstream. When your blood sugar goes up, it signals your pancreas to release insulin. Insulin acts like a key to let the blood sugar into your body's cells for use as energy.
With diabetes, your body doesn't make enough insulin or when the body cannot effectively use the insulin it produces. When there isn't enough insulin or cells stop responding to insulin, too much blood sugar stays in your bloodstream. Over time, that can cause serious health problems, such as heart disease, vision loss, and kidney disease.
There isn't a cure yet for diabetes, but losing weight, eating healthy food, and being active can really help.
According to World Diabetes Federation, currently, there are 537 million diabetic patients, and half of them are undiagnosed. It is estimated that around 1 in 10 people in the world is diabetic. They have reported that in the year 2021, around 6.7 million people died due to diabetic complications.
In our exile community in India, According to the Health Information System(HIS) section of the Department, currently, there are 796 Tibetan diabetic patients in 2021. However, this data misses all the patients who do not visit the Primary Health Care Centers under the Department. So, we estimate the actual data is higher than this. Diabetes is also among the five most common diseases in the Tibetan community in India according to HIS.
The Health Education Section of the Department of Health coordinated with the Tibetan Settlement Offices and the Tibetan Primary Health Care Centers to raise awareness of Diabetes and help prevent its complications and also not getting it at the first place. In around 18 settlements namely Bonshi ,Mundgod, Poanta, Puruwala, Gangtok, Bangalore, Hunsur, Ladakh, Odisha, Herpertpur, Mandi, Dekyiling, Dalhor, Kollegal, Mainpat, Bir, Bhandhara and Dharamshala, we were able to reach more than 1296 people. The program is funded by the USAID.