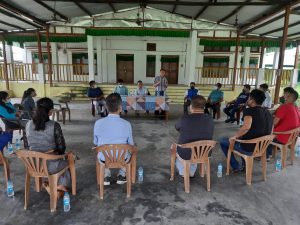 Dharamshala: The members of Central COVID-19 Emergency Task-Force is currently on a visit to Tibetan Settlements in North-East India. The visit is aimed at monitoring the preparedness of the settlements against a possible third wave of COVID-19.
The visit is led by Palden Dhondup, Secretary of Department of Health and chairman of the central COVID-19 Emergency Task-Force. He is accompanied by Dawa Phunkyi, chief administrator of Tibetan Delek Hospital and Dr Tenzin Tsundue, medical officer of Delek Hospital.
The trio visited Tezu Dhargyeling and Miao Choepheling Tibetan Settlement on 19 August 2021 and had meetings with members of the local COVID-19 Task-Force of the two settlements. The team will next visit Tenzingang Tibetan Settlement.