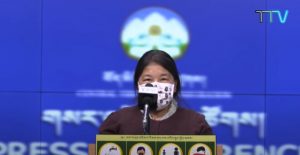 Dharamshala: Addressing the 94th Covid Taskforce Briefing, the committee member Deputy Secretary Tenzin Kunsang informed audiences about the Covid guidelines issued by Kashag after the recent Covid surge across Tibetan communities in India. Together with this, Deputy Secretary also briefed on the virtual meeting led by Sikyong Penpa Tsering and CTA's Covid Taskforce with Settlement Officers that was held earlier yesterday, during which, Dr Tsetan Sadutsang stressed the mandatory of wearing masks, avoiding the crowds and the importance of the ventilation system in one's dwelling, given that the Omicron is more contagious than the previous variants. She further instructed the age above 60 and those with medical conditions to get a booster dose only after nine months since their second jab.
Following Deputy Secretary's addressing, sMenpa Tsering Tsamchoe elucidated the Covid updates of last seven days reporting 429 new cases among which, 222 are male and 207 are female. A year-old child is the youngest of them while the oldest is 90 years old. Similarly, the quarantine status of the past seven days is 812, consisting of 476 home-quarantine and 336 institutional quarantine. She further revealed 1531 tests conducted in the same period across 16 Tibetan Settlements in India.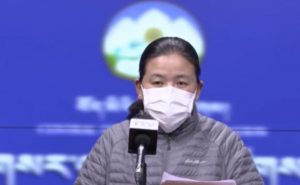 Reporting the overall accounts of Covid status, sMenpa Tsamchoe mentioned 48,673 complete vaccinated Tibetans above 18 in India while 1,620 are partially inoculated. As for the Tibetans in Nepal, 6,990 are fully vaxxed. She also reported 1,178 children between the age group of 15-17 are jabbed with the first dose along with 284 booster doses for the front-liners and 1,097 boosters for the elderly people above 60 years.
Before concluding the Taskforce Briefing, Dr Tenzin Tsundue from Delek Hospital alerted the Tibetans of a possible third wave. He emphasised Tibetans to vaccinate as soon as possible due to the recent growth in the positivity rate of India to 13 per cent and advised the audiences to follow the Covid protocols.