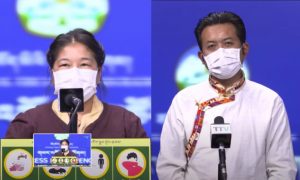 Dharamshala: Addressing the 91st Taskforce Briefing, Deputy Secretary Tenzin Kunsang updated the Covid statistics of the last seven days, reporting seven new cases in the Tibetan community of India, Nepal and Bhutan, among which the oldest is 73 years old while the youngest is 25 years. She added that the quarantine status of the same period is 131, containing 101 home-quarantined and 31 institutional-quarantined. Deputy Secretary of the Health Department further informed about the numbers of Covid tests conducted during the past seven days mentioning 386 tests, from which two are tested in Nepal and the rest in India.
Similarly, Deputy Secretary Tenzin Kunsang elucidated that a total number of 57,052 units of sorig immune booster were distributed up until now to the Tibetans in Exile. In addition to this, she also informed about the Health Department's distribution of masks to Tibetan winter sweater sellers across 90 different regions in India and said the department is preparing to distribute masks to another 27 regions. She also requested Tibetans in others regions doing the same business to turn up for the same facility. Apart from these, Tenzin Kunsang briefed that 46,774 Tibetans in India and 7,002 Tibetans in Nepal are fully inoculated, whereas 3,502 Tibetans in India and six Tibetans in Nepal remain partially vaccinated.
Till now, 6,976 Tibetans are reported infected by the virus, Deputy Secretary said, among which 6,800 have recovered, and 14 are still active. The total number of death until now is 162, which in percentage, 74% are above 60 years. Having said that, she urged younger Tibetans to be more responsible in following the protocols to secure the elders of the community from the deadly virus.
Before handing over the podium to Dr Tsundue from Delek Hospital, Deputy Secretary Tenzin Kunsang stressed Tibetans continue adhering to the Covid protocols. She acknowledged the online seminars held by the Health Department to spread awareness about the vaccination for children below 17 years.
Following the reports of the last seven day's Covid status, Dr Tsundue illustrated the cases of the Omicron variant in India. He said 236 cases are reported in India across 16 states, among which 104 are recovered. Since the Tibetan seasonal business, at the moment, stretches over the number of states in India, Dr Tsundue detailed the reported cases of a new variant: 65 cases in Maharashtra, 64 in Delhi, 24 in Telangana, 23 in Karnataka, 21 in Rajasthan, 15 in Kerala, 2 in Odisha, and one in Uttarakhand. Providing these data, he emphasised Tibetans to comply with the prevention guidelines, especially before the homecoming and during the upcoming festivals, given that the mutated variant omicron is more transmissible than any other variant.
Before concluding his remarks, Dr Tsundue highlighted the necessity of wearing masks appropriately to prevent the virus from spreading beyond control rather than simply putting them on.