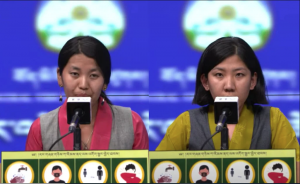 Dharamshala: Addressing the 103rd Covid Taskforce Briefing, Maternal and Child Health section's staff Kalsang Choedon updated the past seven day's Covid status of the Tibetan Community in India, Nepal and Bhutan stating the taskforce committee conducted 323 Covid tests, from which the virus reportedly infected three males and two females. The oldest among them is 54 years old, while the youngest is 15 years old. Also, one death has been reported during the same period.
The Department of Health, CTA, and Men-tsee-khang jointly disbursed sorig immune boosters to 7,674 individuals till now.
She further elucidated the quarantine status, mentioning ten home-quarantine and two institutional quarantine in two settlements.
Thus far, 9,150 Tibetans in India, Nepal and Bhutan were infected by the Covid, from which 8,979 recovered, 168 died, and three are still active.
Apart from this, Kalsang Choedon briefed the audience on services provided by the Maternal and Child Health section to pregnant women regarding the facilitation of Micronutrients and the creation of video instructions. Similarly, the Maternal and Child Health team also facilitated the under-five immunisation to certain regions despite the government of India's support due to their inaccessibility to the nearest facilities.
The team also conducted an anaemia test for female students in 11 Tibetan schools, and the same was still in progress for nuns. Apart from these, the Department of Health's Maternal and Child Health section also provided other services, ranging from Ultrasound tests to Zumba dance sessions.
Since the vaccination drive for 12-14 years has been initiated, Dr Jigme Kalsang from Delek Hospital informed the second dose for the abovementioned age group should be inoculated after 28-30 days from the first shot. She further urged Tibetans above 60 to obtain booster shots if yet to receive while advising the mass to continue practising Covid protocols.
Source : Tibet.net