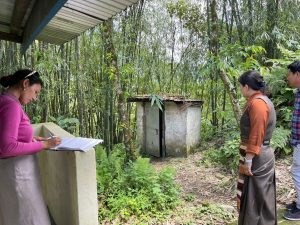 Tuting: Deputy Secretary Mrs. Pema Youdon accompanied by WASH Project Officer Ms. Sonam Dolma of the Department of Health, CTA carried out Need Assessment at Tuting Tibetan Settlement in Arunachal Pradesh from 4th to 7th May, 2022. The delegates reached Tuting on 3rd May late in the evening and they were warmly welcomed with a Tibetan traditional scarf by Tibetan Settlement Office Secretary Mr. Tenzin Lhawang and all the members of local leaders.
The next morning on 4th May, they held an official meeting with all the camp leaders and Presidents of the Local Tibetan Assembly and regional Tibetan Freedom Movement at the Settlement Office followed by a meeting with the general public.
In the meeting with the public, Mrs. Pema Youdon had briefed about the major programs of DoHe such as the Tibetan Medicare System (TMS), WASH (Water Sanitation and Hygiene), RNMCH (Reproductive Mother, Neonatal, and Antenatal & Child Health), Program for people with disability, Mental Health program, HIV/AIDs, and Substance Abuse program. The general public listened with which shown great interest by community people during the meeting followed with some questions and answers.
On the same day in the afternoon, need assessment were carried out at scattered communities of namely PI Line, Lali Basti, ALC Line, Bihari Line and Pekong village etc.
On the second day, need assessment was carried out at Kopu, Bona, Norbuling and Gelling villages. The same was carried out at Gelling village which is the last village near border. On the third day assessments were carried out at Nyering, Nyukhang, Mankota, Paying dem and Nyortong villages.
On the fourth day and last day, they have covered Tashigong village.