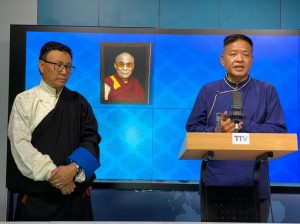 Dharamshala: Sikyong Penpa Tsering on Saturday detailed the 16th Kashag's new Covid-19 guidelines that focused on achieving full vaccine coverage for Tibetan communities in India and Nepal, prioritising medical care and equipment supplies for those battling with Covid-19 and providing relief for the needy and those impacted by the pandemic.
He also announced a revamp of the CTA Covid-19 Emergency Task Force and its roles. The revised committee include A) Two advisory members: personal physicians to His Holiness the Dalai Lama Dr Tsetan Dorji Sadutshang, Delek Hospital and Tsewang Tandin, Mentsee Khang.
B) Chair of the task force: Secretary Palden Dhondup, Department of Health and members: Secretary Jigme Namgyal, Department of Education, Mentseekhang Director Tashi Tsering, Delek Hospital Director Dawa Phunkyi, Health Deputy Secretary Tenzin Kunsang, Mentsee Khang doctor Rinzin Sangmo and Dr Tenzin Tsundue.
Henceforth, the task force headed by Secretary Palden Dhondup, Department of Health, would act as the central authority in leading CTA's Covid-19 responses and issue directives to settlement offices, departments, health centres and other relevant offices in this new capacity.
As for the local Covid-19 emergency task force in settlements, Sikyong mandated that the committee must include two doctors, each from traditional Tibetan Sorig medicine and allopathy medicine,
The 16th Kashag's guideline and policy on Covid-19 focus on the three key agendas:
All-round efforts to achieve full immunisation coverage among the Tibetan communities in India and Nepal: Towards this end, the CTA Covid-19 Emergency Task Force shall explore all possibilities to purchase and procure vaccines, whether from private corporates or states and direct the distributions accordingly. Similarly, all Settlement offices and regional health centres are advised to leverage the available resources to bolster the immunisation efforts fully. The guideline also requires settlement offices/local task force to set up necessary help-desks to facilitate vaccine registration for those who have no means to access phones/internet or are digitally illiterate.
Medical care and equipment supplies for those battling with Covid-19 to ensure their full and swift recovery: From quality medical care to adequate equipment supplies, the CTA task force would provide all necessary care and supplies to meet 100 percent recovery rate. Every minute care will be given so that no patient suffers from a shortage of medical supplies such as ventilators, oxygen cylinders, concentrators and other essentials.
Relief and assistance for those impacted by Covid-19: As instructed, the Secretaries of the Home department and Education department shall dispense the necessary relief assistance for those impacted by the pandemic. In addition, the Home department shall furnish complete data of those affected by Covid-19 and an updated data of the vaccinated and non-vaccinated to implement necessary response measures.
In addition to these guidelines, it is also mandated for all settlement offices to assign one Covid response coordinator who would report daily Covid updates and relevant information to the CTA task force.
Meanwhile, Sikyong Penpa Tsering shared the outlines of funds received and spent on Covid-19 relief in the Tibetan community in India and Nepal.
Since the pandemic struck, around 656.15 lakh rupees were spent on Covid relief efforts in India from the total relief fund of 915.79 lakh of which, 259.64 lakh rupees is the remaining balance.
Similarly, around 172.74 lakhs were spent on Covid-19 relief in Nepal with total 225.52 lakh rupees received and balance of 52.78 lakhs. As of 28 May 2021, Sikyong announced the sources as PRM, USAID, UNHCR, AHP, TRAS, Swiss, Tibet Relief fund among several others.
Overall, 828.89 lakhs have been spent on Covid-19 relief and containment efforts in India and Nepal out of the total 1141.31 lakh rupees. The balance remains 312.42 lakh rupees.
If the situation doesn't improve, the expected expenditure for the next 10 months is likely to be around 1095 lakhs rupees.
As of Saturday, 29 May, the total number of cases in India and Nepal stands at 4445 with 2983 recoveries, 114 death and 1348 active cases.