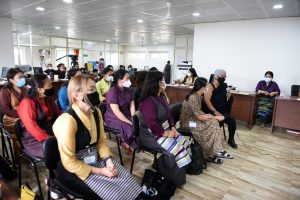 Dharamshala: Sikyong Penpa Tsering today felicitated a group of Tibetan nurses who have voluntarily offered their assistance and services to the Tibetan community for over a month during its fight against the second wave of the Coronavirus in India. The felicitation ceremony was organised by the Department of Health, Central Tibetan Administration, to express its gratitude to the nurses for their selfless service towards the community.
Along with the Sikyong, the ceremony was attended by CTA's Covid-19 Task Force including Health Secretary Palden Dhondup, Director Tashi Tsering Phuri from Men-Tsee-Khang, Dawa Phunkyi, the Chief Administrator of Tibetan Delek Hospital, Dr Tenzin Tsundue, Dr Tsering Tsamchoe, and by the staff of Health Department.
The volunteer nurses include fourteen nurses – seven from the US and seven from different parts of India. These nurses were deployed to various schools and settlements scattered across India including Sarah College, TCV Gopalpur, TCV Upper, Men-Tsee-Khang and Dekyiling Tibetan settlement to provide essential healthcare and help aid the respective health workers in the area. The mission is funded by the Tibetan Nurses Association, Tibetan Association of Northern California, Tibet Fund and Arizona Friends of Tibet.
In his address, Sikyong extolled the invaluable services provided by the volunteer nurses and stated that they have been immensely helpful to the community during these challenging times.
"I heartily thank you all on behalf of CTA for remarkably upholding the concept of others before self and for showing true compassion," Sikyong said. He also applauded the significant contributions made by individuals and NGOs including various monasteries. Sikyong also assured the CTA's commitment and preparedness to combat the possible arrival of the third wave of virus.
Secretary Palden Dhondup thanked the close-knit cooperation and concerted effort shown by the volunteer nurses and said: "It is a satisfying feeling to see the youth taking charge in the community."
The nurses also shared a detailed account of their experiences in this collaborative mission while updating on the relatively improved situation in the respective settlements they were deployed to serve.
A sum of Rs 6 lakhs was also donated by the Tibetan Nurses Association and Tibetan Association of Northern California to the Department of Health to be used for emergency relief. Moreover, 6 nurses from the team have offered to continue to provide emergency medical services for 2 months.
India was hit hard with a deadly second wave of the coronavirus in April and May which saw more than 3,00,000 daily new cases and an unprecedented number of deaths making India the country with the third-largest death count after the U.S and Brazil. Since the majority of Tibetan settlements are scattered across India, the Tibetan community was no exception to the massive challenges posed by the covid outbreak as spiralling cases and deaths were recorded during the peak of the second wave.