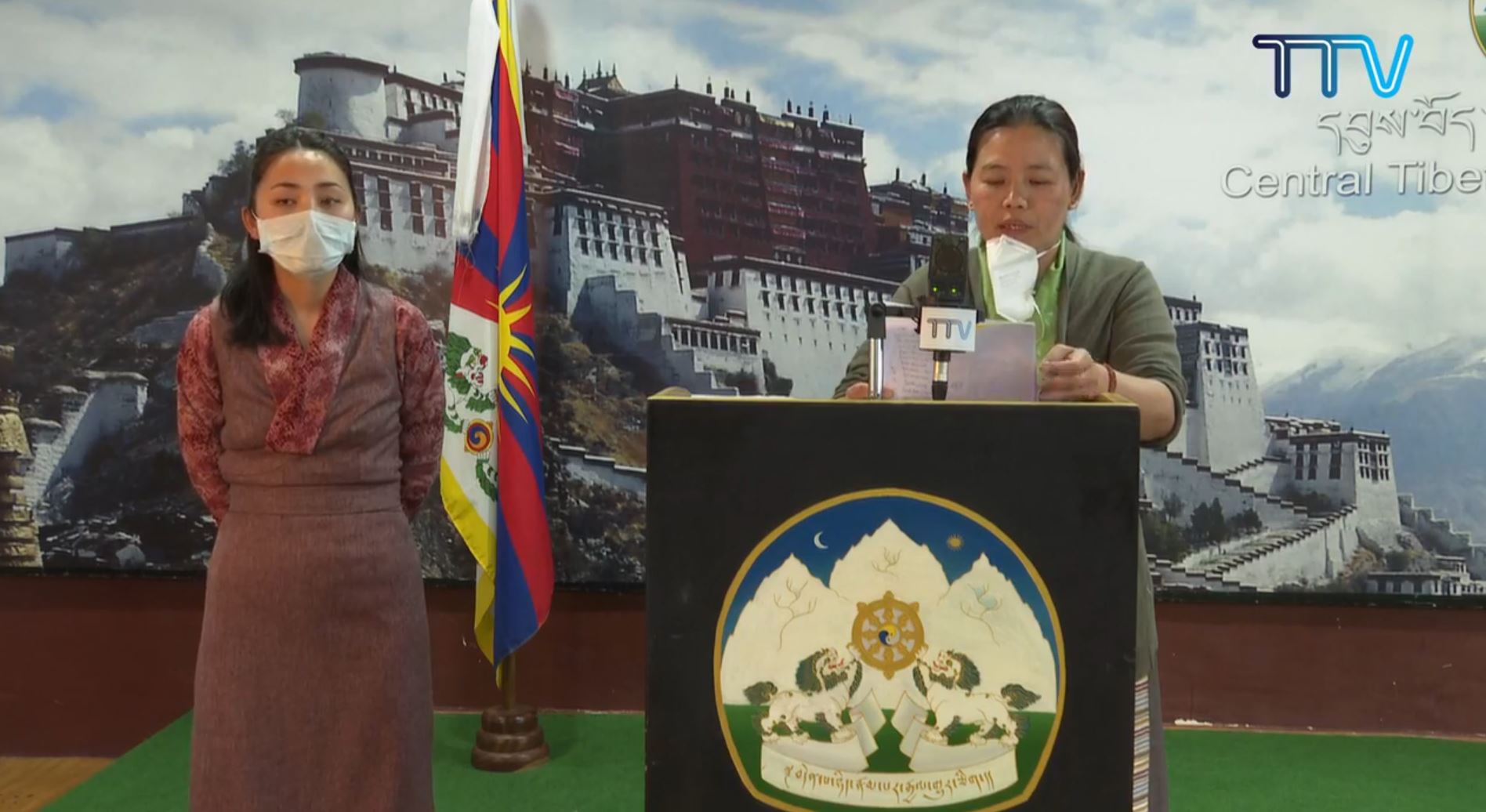 Dharamshala: The Central Tibetan Administration's (CTA) Task Force for the Wuhan origin, COVID-19 pandemic addressed the press on 7th May 2020 on the status of active cases worldwide and an update on the different response measures undertaken by the committee in different Tibetan settlements. Dr. Tsering Tsamchoe and Dr. Tenzin Namdon briefed the press conference as follows.
COVID-19 pandemic has affected 187 countries globally with 3,753,219 positive cases and 263,843 deaths and 1,245,560 recovered cases reported as of May 7th, 2020. Five countries with the highest number of positive cases are the US, Spain, Italy, UK, and France. The statistics of positive cases in countries where a larger number of Tibetans are settled include the US with 1,228,603 positive cases and 73,431 deaths. The US was followed by the UK with 202,359 positive cases and 30,150 deaths. And by France with 174,224 positive cases and 25,812 deaths and Canada with 64,694 positive cases and 4366 deaths reported.
In India, the statistic is at 53,045 positive cases and 15,266 recovered cases with the number of deaths at 1787 as of May 7th, 2020. The states in India with the highest number of positive cases are Maharashtra, Gujarat, Delhi, Tamil Nadu, and Rajasthan. In Himachal Pradesh, 45 people tested positive with 38 recovered cases and 2 deaths. Karnataka has 693 positive cases with 354 recovered cases and 29 deaths.
The committee expressed the importance of undertaking precautionary measures such as the self-quarantining of people who have a travel history, especially from any affected states. Due to the recent relaxation of lockdown rules in India from May 3rd, the number of people under home quarantine have increased from 27 to 147 in 13 settlements in India and 5 in Nepal.
As for the update on the active surveillance (thermal screening) in Tibetan settlements, a total of 30,117 Tibetan people in 31 settlements in India and 5 in Nepal were screened and a total of 1322 people in Gankyi's vicinity were screened.
Dr. Tsamchoe announced that quarantine facilities in 24 settlements and in 11 scattered Tibetan communities were set up. Also, settlement officers have contacted and networked with the respective local nodal officer of COVID-19 appointed by the Indian government through in person meetings and telephonic conversation.
61 more nurses and 16 drivers came forward to volunteer and they will play a critical role in times of emergencies. The committed further added that necessary sanitization preparation has been done in all settlements. But when the sanitization has to be carried out will be notified by DoHe.
After May 3rd, 2020, the Government of India (GOI) categorized all the regions into three zones: Red; Orange; and Green depending on the number of infections. Dr. Namdon said, "Since the inter-state permits have been allowed under certain conditions with e-permit, the infection risk will get higher so each person should be responsible to take all the precautionary measures". She further added that people with existing medical conditions such as diabetes, hypertension and other heart ailments, kidney, or lung diseases should take an extra precaution as they are at a higher risk of infection from coronavirus.
Dr. Tsamchoe urged those coming to Dharamshala from neighboring states to inform the concerned staff of the CTA or McleodGanj welfare officer as it poses a huge risk to the entire CTA.
On the last note, she suggested that since the majority of the Tibetans are Buddhists, we can use the teachings of Buddha to pass through this difficult situation.