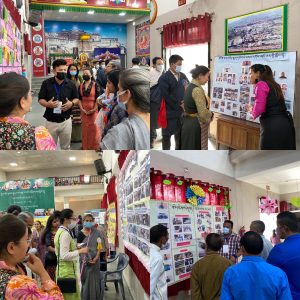 Dharamshala: Secretary of the Department of Health Palden Dhondup attended the "Gratitude to His Holiness the 14th Dalai Lama and the 22nd founding anniversary of Ngoenga school for the Tibetan Children with special needs" on 27 April 2022.
The event began with staff exhibiting pictures of the Ngoenga School, followed by a dance performance from the students.
In his address, Health Secretary emphasised four commitments of His Holiness the Dalai Lama, which aimed to promote peace and happiness, spread compassion, carry a message of love amidst the ongoing crises in today's world, and to preserve Tibetan culture and values. He further stressed abiding by these principles to express our genuine gratitude and devotion towards His Holiness the Dalai Lama.
Following the successful completion of the function, Health Secretary toured Ngoenga School and interacted with staff on the difficulties they encountered on the ground level.
Health Secretary also paid visits to primary health centres of Dekyiling and Clementown settlement on the following day, where he met and discussed with the health centre's staff. At the same time, the ongoing projects in the area were also visited.
The final leg of his official visit to the Doon region ended at Poanta Settlement, where he monitored the preparation of upcoming 27th GCM and held a meeting with residents in the evening before returning to Dharamshala on 29 April.