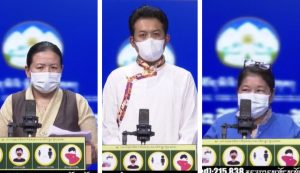 Dharamshala: At the 81st Central Taskforce briefing, Tenzin Kunsang, Deputy Secretary of Department of Health issued an advisory requesting the public to be extra cautious and take necessary covid appropriate measures during the festive season, asserting a possible emergence of third-wave during this period as per the experts' prediction. In addition to health safety measures, she also urged people to care for their mental well being as cases of mental distress was largely reported during the peak of the pandemic.
People have been advised to watch the materials available online on TibetTV on coping with stress and anxiety that are associated with the ongoing pandemic.
She also informed about the Department's Instagram page 'Semtrin' that was solely developed to address the queries and doubts related to COVID-19.
Tibetans embarking on winter business are particularly stressed to take necessary precautions. Similarly, with the schools partially reopening in many states have been advised maximum health and safety precautions to prevent the potential spread of COVID-19.
As for the COVID-status of exile Tibetans, this week, around 437 Tibetans across India were tested of which, Dr Tsamchoe reported 55 fresh cases and 1 death thus bringing the total number of COVID-cases to 6668 with 6417 recoveries, 152 deaths and 99 active cases.
In regard to the inoculation status of Tibetans, around 39,984 Tibetans in India are fully vaccinated while 11,467 are partially inoculated. As for the status in Nepal, 6697 of them are fully vaccinated while 51 of them are partially vaccinated. Preparations are underway to commence vaccination for comorbid kids aged between 2-17 by October-November as per the official sources.
Meanwhile, Dr Tsamchoe appealed for strict public adherence to Covid safety protocols issued by central and state governments.
Addressing the overall covid status in India, Dr Tsundue said it was well under control, however, he said that the southern states of India where the largest Tibetan population resides still continue to record maximum covid cases than the rest of India. He prompted getting tested at the earliest in case of exposure to a covid patient.
Dr Tsundue informed the recent approval of the national drugs regulator's subject expert committee to use Covaxin (BBV152) as Emergency Use Authorisation for children aged between 2-18. However, the decision to include this in the ongoing nationwide vaccination drive is yet to receive confirmation. Until then, schools and monastic institutions have been directed to submit a list of children aged below 18 to the Health Department just so required preparations can be done beforehand.