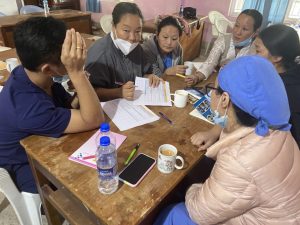 Kollegal:Considering the need to standardize the service delivery system in DOH Health facilities, Department of Health CTA has finalized Guidelines on Quality Assurance Standards for its unit Hospitals and Primary health centres in October 2021. Training on Hospital Quality Assurance Standards is underway in DOH unit Hospitals in Karnataka state which began on 9th December 2021 and will conclude on 15th December 2021. Staff of Phende hospital in Hunsur settlement and Tsojhe Hospital in Bylakuppe Settlement has already received this training and similar training will be conducted for the Kollegal DVT Hospital staff on 14th December 2021.
The training is part of Optimal Service Model (OSM) program under Department of Health, CTA funded by USAID. Overall aim of this training is to build capacity of the hospital staff in order to provide quality and accessible health services to the settlement residents in an efficient and equitable manner within the available resources.
Topics such as dimensions of healthcare quality, Quality assurance program framework, Evaluation mechanism, key focus areas, access and patient care standards, medicine management, human resource management, Information management system, hospital infection control, quality management and outcomes were discussed and explained by OSM Program Manager Mr. Tsering.
In November 2021, a similar workshop was earlier organised for the health facility staff of Mainpat Tibetan Primary Health Center (TPHC), Bir TPHC, Dekiling TPHC, Delhi TPHC and Bhandara TPHC. The remaining staff of Mundgod DTR Hospital, Menlha Hospital, Miao Tibetan Primary health center and Ladakh Tibetan Primary Health Center will be trained in January 2022 after which the project will be implemented in respective unit hospitals and Primary Health Centers.