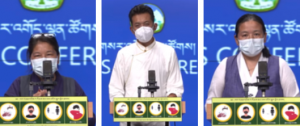 Dharamshala: The 66th Covid-19 Task Force briefing led by Tenzin Kunsang, Deputy Secretary of Department of Health, offered tribute to the invaluable service of doctors and health care workers on the occasion of National Doctor's Day.
Meanwhile, alerting on the possible approaching of the third wave, Deputy Secretary appealed public adherence to covid regulations urging them to refrain from irresponsible behaviour that is amplifying the spread of the virus even though the status of vaccination drive in India particularly the Tibetan community is progressing as more than 75% of the Tibetan population have been vaccinated at least one shot of covid vaccine.
Updating the weekly Covid-status of the Tibetan community, Dr Tsering Tsamchoe reported that the mass testing drive this week covered 669 Tibetans in India and Nepal. Of those tested individuals, Dr Tsamchoe reported 72 fresh cases. With this, the total number of reported cases of the exile Tibetan community is 5156, 4658 recoveries,131 deaths, and 367 active cases.
37056 units of Sorig immune boosters have been distributed till now out of which maximum portion have been disbursed to those in quarantine. The committee has directed its subcommittees across the settlements to soon roll out immune boosters to children aged 4-17.
As for the status of the inoculation drive in the Tibetan community, around 14703 Tibetans in India so far have received both doses of covid vaccination while 28489 have received at least one shot bringing the vaccination tally of Tibetans in India to 79% of the total population. Similarly in Nepal, 379 Tibetans have been fully vaccinated while 1069 have received at least one shot bringing the total vaccination tally to 17% of the total population.
Addressing the eligibility concerns of vaccines, Dr Tsundue reported the latest directive of the Health Ministry announcing eligibility of pregnant women to get vaccinated, however, they are advised to do so at the earliest so that they minimize the risks of infection and symptomatic illness.
As for the interval between the doses, it is recommended to wait for at least 88 days after the first dose for improved efficacy of the vaccine.
Those who have recently recovered from infection are also advised to wait for 3 months before getting vaccinated.
Dr Tsundue further announced that vaccine trials are currently underway for children aged between 2-18 and the experts will have the results latest by September.
Daily reported cases in India are fluctuating indicating the situation hasn't improved drastically, therefore, the public has been urged to cooperate with the guidelines and maintain strict compliance with safety measures. The public is also urged relentlessly to get tested at the earliest occurrence of symptoms. Likewise, a constant reminder was issued to uphold the covid appropriate behaviour. Lastly, people in Himachal Pradesh are referred to check with the official Facebook page of CMO, Kangara for any vaccine-related concerns and updates.