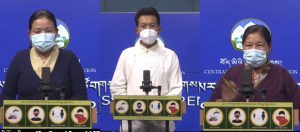 Dharamshala: Addressing the 59th Covid Taskforce Briefing, Tenzin Kunsang, Deputy Secretary of Health Department once again raised the awareness on the ferocity of the second wave that is sweeping across India at a deadlier and faster pace while she made an earnest appeal to the people to strictly adhere the covid-safety norms instructed by the establishments.
Those experiencing any signs and symptoms or even a little discomfort are urged not to delay in getting themselves tested regardless of vaccination status.
"Only collective efforts can bring forth a positive results in overcoming the devastating virus", assured Deputy Secretary Tenzin Kunsang. Meanwhile, she lauded individuals and organisations for their contributions.
As for the weekly covid-status of the exile Tibetan community, Dr Tsering Tsamchoe reported 443 new cases and 22 deaths. With this, the total number of reported cases of the exile Tibetan community is 3377, 2119 recoveries, 83 deaths, and 1175 active cases.
Dr Tenzin Tsundue explained that India's covid strain has been designated by the scientists across the world as the most transmissible variants till date calling it a variant of concern. He said that the current swell in cases are due to the rise in B1.617 virus which is said to be airborne infection, and thus people are advised to keep physical distancing of atleast 6 feet in addition to proper masking in both indoor and outdoor spaces.
"As much as it has become a strenuous battle to fight the mutant virus, the myth and stigma surrounding the virus has made it even harder", said Dr Tsundue as he shunned the myths related to covid- testing and urged people to get tested in time.
As covid cases in India are recording a new surge daily, doctors and experts nationwide has urged people to take active participation in the vaccine drive citing the uncertainty of the mutating virus.
Amongst the surging cases in India, much of fresh cases were recorded of youth and children and now experts believe that children and newborns are at risk in the possible third Covid-19 wave as they are yet to be inoculated against the Covid-19 infection. Keeping this in view, earlier today, the Drugs Controller General of India (DCGI) approved the Phase 2/3 clinical trials for Covaxin to be conducted on the children from 2 to 18 years after much evaluation and careful thoughts.
Since the inception of the nationwide vaccine drive that began in March, a total of 16222 Tibetans have received their doses. More Tibetans are advised to come forward to get the jab citing the necessary in preventing the spread of the virus.