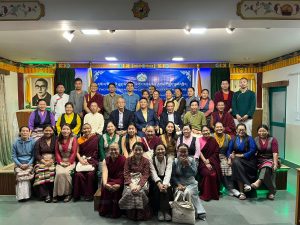 Dharamshala: The two-week orientation workshop on Allopathy Medicine for Traditional Sowa Rigpa physicians and one week of the vice-versa concluded on 31st August under the Traditional and Allopathic collaboration program held at LTWA auditorium.
Organised by the Department of Health, the workshop was attended by 30 participants from seven different medical institutes like TMAI, Chagpori Tibetan Medical Institute, CIHTS Varanasi, Palpung Sherabling, Menri Ling Bumshi College, and private practitioners as well.
Health Secretary,Palden Dhondup presided over the closing ceremony accompanied by two personal physicians Dr. Tsetan Sadutshang and Dr. Tsewand Tamdin who are trained from the Allopathic and Tibetan Sorig School of medicine.
A brief feedback session was held in which four participants from different sections shared what they learned and how they can be more resourceful using some approaches of the other discipline. However, there was a clear consensus about the objective of the orientation program and was communicated clearly that the idea is not to turn the participants into an expert or practitioners of the other discipline but rather a helping hand in some areas during their practice.
In the changing landscape of the healthcare system which is moving away from disease-oriented to a more holistic and personalised approach, Dr. Tsetan expressed that this workshop was the first step of many toward a holistic approach from the department.
On the final note, Health Secretary appreciated the guidance of the two physicians and said that organising the workshop was the inception of actualising the idea advised by His Holiness the Dalai Lama on which a series of discussions were held over several years. And he encouraged each participant to build on this.