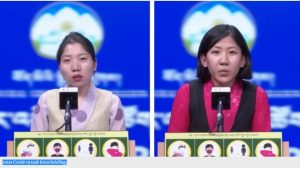 Dharamshala: Schools and institutions are strictly advised to adhere to the Covid-19 precautionary measures as they begin to reopen.
The 101st central task force briefing on Covid reported a sharp decline in the covid cases across Tibetan settlements in India and Nepal.
Staff Yangtso of the Health Department updated the current situation of the Covid-19 pandemic and the vaccination status of the Tibetan community in India and Nepal.
According to the latest collected data, 14 Tibetans were tested positive out of the 341 individuals tested for covid this week. The total cases recorded till now stand at 9128 while 8952 have recovered. As per the official data, the death toll so far is estimated to be 167 and the number of active cases currently stands at 9.
As for the vaccination status, the total number of Tibetans above 18 years who are completely vaccinated is 49824 in India and 6990 in Nepal. The partially vaccinated Tibetans above 18 years are 486 in India. For the status of vaccination for below 18 years, 686 Tibetans in India and 99 in Nepal have been completely vaccinated while 755 Tibetans in India and 15 in Nepal are partially vaccinated.
The booster shot for the above 60 years has been administered to 3489 Tibetans in India and 178 in Nepal. The numbers also include 589 front liners in India and 4 in Nepal.
Given the considerable improvement in the covid situation globally, the health education desk of the Department of Health has in recent days initiated a program- Healthy Lifestyle through health assessments conducted in various Tibetan settlements. The department has also lined up various healthcare programs in the coming months.
Addressing the sharp declining trend of Covid-19 in India, Dr Jigme Kalsang from Delek Hospital dissuades throwing caution to the wind and meanwhile urged the eligible seniors to opt for the precautionary dose/booster shot to retain strong protection against possible severity of covid as she states that the immunity and protection offered by the vaccines get decreased over a period of time.