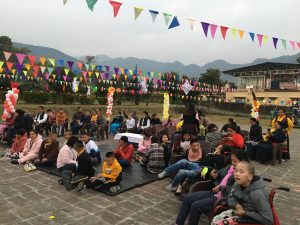 Dehradun: There is no garden as beautiful as childhood". A day marking childhood was celebrated with a fun and frolic atmosphere at Ngoenga Special School. Ngoenga Special School witnessed a very beautiful celebration of this year's Children's Day on 14th November. And this year went very much different from the last year's celebration. Unlike previous years, this year, the school basket court was chosen as the venue. The basketball court was decorated with colorful flowers, balloons, paper color ribbons, and cartoon drawings with various shaded colors dedicated to our beloved children.
All students and staff were instructed to be present at the venue at 9 in the morning. After half an hour, the program started with the short opening speech from the school Director Mr. Pemba Labrang explaining the history and significance of Children's 12 rights followed by the Headmaster's informative speech on the importance of this day as an occasion of love, rights, and education of the special children.
After that, the whole program was filled with various types of cultural & non-cultural activities to experience a power-packed program specially arranged for the children to be entertained. Teachers/ Foster Parents and Administration staff gave various performances to express their love and affection for them. Students cheered on as they saw the teachers and staff on stage and laughed boisterously at their jokes & funny moves. The whole event was buzzed with excitement, laughter, and joy.
The day concluded with the distribution of sweets & gifts to the students and wonderful memories lingering in their minds.