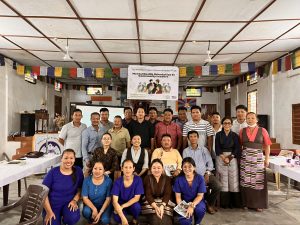 Dharamshala: The Department of Health, CTA's mental health staff Ms. Tsering Yangdol and Ms. Tenzin Chondhen completed mental health orientation to 102 community leaders in Miao, Tezu, Ravangla, Darjeeling, and Sonada Tibetan settlements in North-East India from the 10th July to 26th July 2022.
The community leaders comprising the Tibetan settlement office staff, Tibetan primary health staff, Nyamdrel staff, NGOs, and camp leaders are the representatives of the Tibetan refugees in the settlements. They have the responsibility to look after the well-being of the people. It becomes crucial that the community leaders understand mental health and its importance so they can guide and support any people struggling with mental health in the settlements with kindness and understanding rather than judgments. This orientation help reduce the negative stigma and misconceptions the leaders might have about mental health and mental illness.
The full-day orientation centered around four key topics:
1. What is mental health?
2. What is mental illness?
3. Mental health status in the Tibetan community in India
4. Help-seeking and help-giving behavior
The learnings during the orientation took place through group discussions, reflective activities, and drawing exercises. Since this activity became the first of its kind in the settlements, the participants greatly appreciated it for its relevance, fun, and clarity. Many leaders shared that attending this orientation made them understand mental health, its importance, and how it is something that is related to everyone and not just to those struggling with mental health issues. The participants suggested that the public should be given such workshops in the future.
In addition to the community leaders' orientation, the staff also gave separate awareness sessions on positive parenting to 207 parents in those five settlements and on providing trauma-informed care and support to students to STS Darjeeling and STS Sonada teaching and non-teaching staff.
An activity such as this highlights the importance of every member of the society- individuals, NGOs, and government bodies to step forward to start investing in our community's mental health and wellbeing. This activity is a part of the Department of Health's mental health awareness campaign in the settlements, schools, and the Tibetan youth supported by PRM.