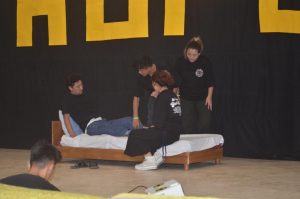 Dharamshala: Globally, mental health continues to be a rising concern, especially after the COVID-19 pandemic. The Tibetan youths who are mostly studying or working in various cities in India lack access to various mental health activities or resources provided by the Department of Health (DOHe). Considering the gap between them and the department, DOHe is proactively reaching out to various student groups and empowering them in carrying out various mental health awareness activities in their respective college or city so that they can become mental health advocates in their locality.
Hence, as a part of the Department of Health's mental health awareness campaign, the department supported and partnered with the Dalai Lama College for Higher Studies (DLIHE), Bangalore, and the Chisem foundation, a youth-led psychology student group in organizing youth-targeted mental health awareness programs in Bangalore and Delhi, respectively.
In Bangalore, the department supported the Delhi in organizing a one-day workshop by The
Richmond Fellowship Society, Bangalore on 10th June 2022. The aim of the workshop was to provide the college-going students with handy tools and techniques and information on stress management, navigating negative emotions, and understanding mental disorders. The workshop used various methods such as icebreakers, assessment forms, presentations, videos, and open discussion. A total of 55 students from various courses and batches and the mental health Department of Men-Tsee-Khang, Bangalore, participated in the workshop.
In Delhi, the department supported the Chisem foundation in organizing a full-day awareness
program on 26th June 2022. The program, divided into lectures, discussions, fun activities, and performances, had about 100 participants. The guest speakers, Dr. Shivantika from Delhi University and Ms. Jyotsna, a certified queer-counseling psychologist, spoke on the Tibetan youth mental health: problems and coping means and maintaining healthy relationships, respectively. On the day, Tibetan aspiring artists T-Nammy and Gtashi showed their support by performing their songs and sharing their resilient journeys of pursuing their passion. The first-year Tibetan youth hostel students also recited poems and gave theater performances followed by wellbeing activities at TCV day school ground, Delhi.
Such collaborations not only promote mental health awareness in youths but also create opportunities to build alliances with youth-led organizations that share common interests and goals with us and who work diligently towards creating a knowledgeable and supportive environment through their community services.
The Department of Health would like to thank PRM for making such joint collaborations possible.