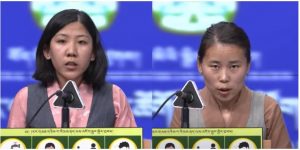 Dharamshala: Addressing the 111th Covid Task force briefing, committee member Tenzin Dazey reported zero cases of Covid during the last seven days in the Tibetan community in India and Nepal. At the same time, despite 20 tests in a single settlement, there were no quarantined Tibetans during this week.
Updating the vaccination status, Ms Dazey mentioned 51,216 completely vaccinated Tibetans above the age of 18 in India, with 271 partially inoculated. Similarly, 2,003 children below the age of 18 were inoculated with the second dose, and 463 were partly jabbed in India. As of Tibetans in Nepal, 7,029 were fully inoculated, while 109 Tibetans below 18 were vaccinated with both shots. 5,641 elderly Tibetans in India and 216 in Nepal received booster shots along with 591 frontliners in both countries.
Thus far, 9,153 Tibetans were reportedly infected by the virus, from which 8,985 recuperated and 168 died.
Following the Covid statistics, Tenzin Dazey, who was staffed at Comprehensive Community Outreach and Coordinated Care section of CTA's Health Department, apprised the section's operation of expending public health programs, preparing records, promoting health awareness and outreach in settlements, implementing preventive health initiatives, and creating public attention on the gravity of good health. She further elaborated its undertakings during the pandemic before commending frontliners and administrators of the Tibetan settlements for their efforts in coping with the Covid outbreak.
Elucidating a total of 525 million cases across the globe since breakout and around 15 thousand active cases in India, Dr Jigmey Kalsang of Delek Hospital urged elderly Tibetans and children to complete their vaccinations, including boosters for the former despite betterment of the situations. She also advised the public to focus on their mental health as the month of May is recognised as Mental Health Awareness Month (or Mental Health Month), given the prevalence of mental health related issues during the pandemic.