Dharamshala: The Department of Health organised hospital management training for executive secretaries of Tibetan primary health care centres across India with an aim to provide competent workshops on the administration of hospitals and management of hospitals. The executive secretaries of around 11 primary health care centres participated in this week-long training.
The training was held at the Academy of Hospital Administration (AHA) in Noida and some of the content of the course include roles and responsibilities of hospital management, project management, human resource management, data management and HIS 7 Cyber Security to list a few.
As per the progressive report and feedback of the participants, the courses and the training led by the hospital management proved helpful. The participants were distributed training manual books, PowerPoint (PPT) material of the courses, and were distributed certificates. The training was funded by USAID and facilitated by the Academy of Hospital Administration (AHA), Noida, India.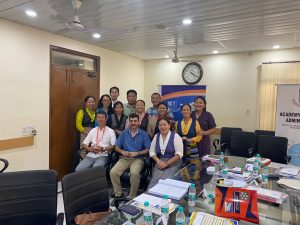 Training session