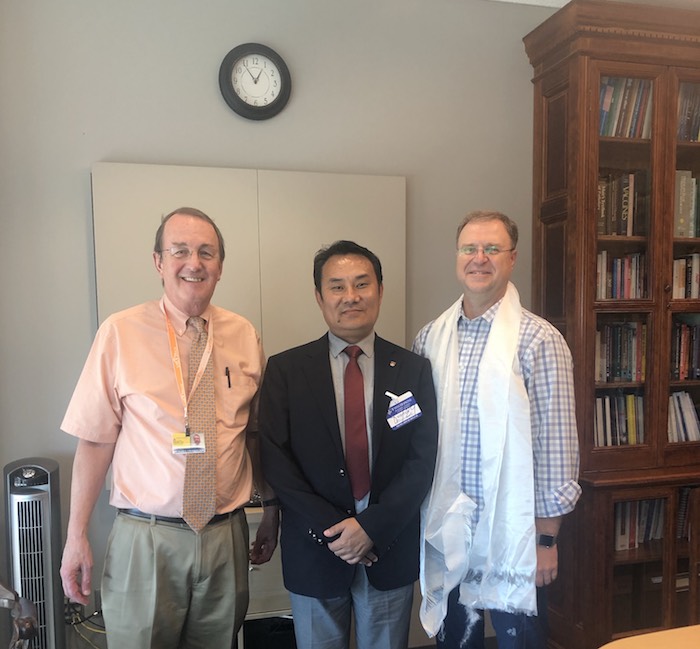 Maryland: Kalon of Department of Health Choekyong Wangchuk on Thursday visited the Johns Hopkins University in Baltimore, Maryland. The purpose of the visit was to meet with several researchers and professors to discuss the status of the Tibetan community's health concerns.
He first met with Dr. Richard Chaisson, the director of the Center for Tuberculosis Research and a Professor of medicine. Two Johns Hopkins staffers, Caroline Kensler and Elizabeth Bonomo, presided over the meeting as well.
"We've been working with the Tibetan community for almost 10 years and it has been a fantastic experience for us," informed Dr. Chaisson. The professor explained how the interest in treating tuberculosis in Tibetan communities by Johns Hopkins began when Dr. Tsetan Sadut­shang came to Johns Hopkins to consult with a cardiologist. The cardiologist asked what's important issue in Tibetan, and they learned that it is tuberculosis.
The university believed this was a very important issue and immediately gave funding for researchers to go to Dharamsala to develop a TB control system, and the project later got funding from the World Health Organization too.
The Kalon discussed the methods implemented by the CTA to contain and treat TB in the Tibetan community in India—and also the Kalon expressed appreciation of the collaboration between the Delek Hospital and Johns Hopkins with the 0 TB program.
The Kalon in the afternoon met with Dr. David Peters, Edgar Berman Professor and Chair of the Department of International Health. Dr. Peters discusses how his office has set up multiple mental health facilities around the world — including India — and offered to extend his help and Johns Hopkins to the Tibetan community.
The Health Kalon discussed the difficulties faced by the Tibetan community of afflictions such as addiction and lack of internet connectivity.
The Health Kalon also discussed the mental health challenges faced in the Tibetan community.
After lunch, the Health Kalon met with Donna Bolin, the Senior Associate Director of Development, and Dr. Chris Hoffman, a Johns Hopkins Professor.
After that, the Health Kalon met with the Executive Vice Dean: Dr. Landon King. Dr. King is also a pulmonary doctor & Professor.
The Kalon also received a pleasant tour of the Johns Hopkins campus.
These meetings were facilitated thanks to Dr. Kunchok Dorjee, Dr. Chaisson, and the Office of Tibet, Washington DC.