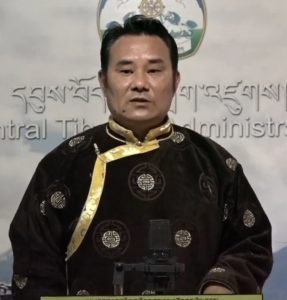 Health Kalon Choekyong Wangchuk in his press briefing on 5th February, 2021 gave a general update on the preventive measures taken so far by The Department of Health, CTA to tackle the COVID-19 pandemic originated from Wuhan, China.
The world has been in pandemic mode for more than a year and people are still suffering and struggling against the crisis. Millions of lives across the globe have been affected with catastrophic impacts on the economy and hardening every individual's lives.
Nevertheless, The Tibetan community in exile especially in India and Nepal has been able to face the pandemic decently with the warm cooperation between health centers, Tibetan settlement offices and volunteers under the leadership of CTA in general and the Health Department in particular said the Health Kalon.
Health Kalon stated that in the month of June 2020, under the CTA Emergency Relief Fund, more than 30 million INR has been issued to provide dry rations to the needy and destitute families, travel expenses for students stranded in various cities across India and emergency fund for buying essential needs.
He further said that from March to December 2020, the Department of Health spent around 56.4 million INR in India and 8.5 million INR in Nepal to carry out various preventive measures in the form of setting up and maintaining quarantine centers and COVID-19 care centers, buying hand sanitizers, PPE kits, Tibetan Sorig Immune booster packets and hospital expenses.
For the Tibetan Sorig Immune booster, 5.8 million INR has been spent for India and Nepal while 1.7 million INR for Tibetans in Foreign countries, benefitting nearly 25k Tibetans.
Also, around 275 Tibetans with prevailing conditions like mental health, specially abled and former political prisoners received a relief fund of Rs 9000 and sanitization kit of Rs 4000.
The Health centers at various settlements were able to carry out 26500 COVID-19 tests and so far 247 Tibetan health workers are vaccinated by coordinating with local Indian hospitals. He added that these were possible only by taking the responsibilities proactively by the ground staff and healthy coordination between the field workers and the CTA leadership.
He notifies that the current situation being manageable, but we could not afford to be careless in the coming days of Tibetan New Year Losar. He further suggested to restrain from grand celebration and instead suggested spiritual activities with huge loss of lives globally last year due to the pandemic.
He also appreciated the host country of CTA, India has increased its budget on health 137% times more, with the current budget standing at 223846 million INR.
Health Kalon concluded his words with an appreciation to all the dedicated frontliners including settlement officers, health staffs, volunteers and NGOs who are actively engaged in protecting our community from COVID-19 and also to our the donors USAID, PRM and the individual donors and others for the generous donations which made the preventive measures possible.
Lastly, He greeted all the Tibetans a very Healthy, Prosperous and Happy Losar The Tibetan New Year.