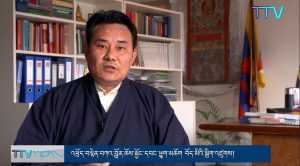 Dear Friends of the Department of Health CTA,
Tashi Delek!
As my term as Health Kalon of the Department of Health CTA is coming to an end, I would like to take this opportunity to thank you for your friendship, support and collaboration in building and growing the Health department, CTA to what it is today. During the past five years, I have been blessed to have had the opportunity to work with many amazing individuals, international donor agencies and non-profit organizations. Your constant support has truly been instrumental in improving access and quality of primary healthcare for the Tibetan refugees in India and Nepal. With your support, we were able to make real differences in people's life. Especially, most of the Tibetan refugees benefitted
through our flagship public health programs such as Tibetan Medicare system, Adolescent healthcare, Maternal and Child care, TB & Hepatitis patient care, Essential drugs, Community outreach health services, Social and Behavior Change communication (SBCC), Substance abuse and HIV patient care, WASH, Mental health care and medical support for person with disabilities which are mostly supported by the donors like yours. In addition, I am truly grateful to all the organizations that stood with us and helped us during COVID-19 pandemic outbreak in India and Nepal since 2020. Due to dedicated frontline medical staff of the health department and financial assistance of the donors, we were able
to keep Covid related mortality and morbidity rate as low as possible due to timely availability of essential emergency services, quarantine facilities and covid care facilities. Together we have managed to reduce the impact of covid disaster in Tibetan refugee settlements in India and Nepal. With this, I would like to request you and your organization to extend similar support and collaboration to the new health Kalon who will be elected very soon. Once again, I'd like to extend my deepest appreciation and gratitude to all the donors for your generous contribution. I hope that the coming years bring good fortune and prosperity to each of you, your families and to everyone associated with the Health Department of Health,Central Tibetan Administration.
With my very best wishes,
Choekyong Wangchuk (Mr.)
Health Kalon
25th May 2021