Gangtok: Health Kalon addresses the opening ceremony of Global Vision for Young Tibetans Conference as a special guest held at Namgyal Institute of Tibetology in Gangtok on 22nd January 2020. It is being organised by the ENVISION trust and will continue till 25th of January. The theme of this year is 'Mindful Tibetan with a Global Vision'. There are 58 participants from different parts of India and Nepal, largely from Northeast states of India.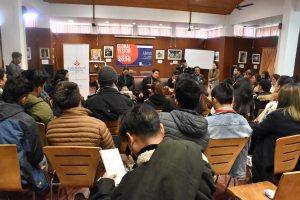 The opening function of the conference was graced by Shri. Kunga Nyima Lebcha, Ministry of Human Resource Development, Law, Legislative & Parliamentary affairs and Land, Revenue and Disaster management of Sikkim Government as the Chief Guest. Tashi Densapa, Director of Namgyal Institute of Tibetology, Tsechogling Rinpoche, Director of dept. of Personnel, Sikkim govt., Khen Rinpoche, Sera branch Monastery, Tibetan Settlement Officer and president of Tibetan Local Assembly, Gangtok, representatives of Local Tibetan Organizations were there at the gathering.
The function began with lighting of butter lamp and offering Khatak  to the portrait of His Holiness The Dalai Lama by the Chief Guest and Special Guest, followed by ENVISION Director, Ms. Youdon Aukatsang also a member of TPiE, introduced her organization and gave a briefing on objectives and contents of the conference.
Health Kalon Choekyong Wangchuk, in his address, stressed that one of the key initiatives to become a leader is to start taking responsibilities with emphasis on broad and far sighted vision. "When one starts acting in a broader sense then personal objectives automatically falls into place" he said. He also mentioned the importance of "think globally and act locally" attitude. He lauded the organizers for making this Conference possible in north east region that too in reputed venue of Namgyal Institute of Tibetology in Gangtok.
The Chief Guest, Kunga Nyima Lebcha, greeted all the dignitaries and participants. He said he really admires the consistent effort of Tibetans in preserving the unique Tibetan culture and identity. He hopes the participants will make best use of the resources available and trigger many positive things through this conference.
In the first plenary session, Health Kalon gave a presentation on "The Importance of Youth Leadership" and made it very relatable by giving examples of personal experiences. As all the participants are young Tibetans, he gave a brief introduction of democratic organizational structure of CTA and also informed them about the middle way approach policy. He also encouraged them to serve the Tibetan community through CTA civil service as well as short term service through Tibet Corp. After his discourse, Q&A session was conducted where various issues of concern were raised.
Empowering the Vision Project (ENVISION) was set up in December 2007 as a trust to strengthen the Tibetan community through youth empowerment.
In the afternoon, he ­­­was taken on tour to the premise of Tibet House where Gangtok Settlement Office, multipurpose hall, staff quarters and cafeteria is located.