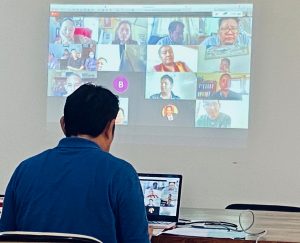 Dharamsala:COVID-19 Nepal Tibetan Response Group (CNTRP) was formed in the month of March 2020 with an aim of providing timely preventive measures at their respective settlements to tackle the pandemic. Till date, CNTRP have held 21 weekly virtual meetings on every Wednesday to update on pandemic status and various measures undertaken in Tibetan settlements in Nepal.
The 22nd Virtual Meeting at the invitation of CNTRP Chairman, Mr Tsultrim Gyatso, Health Kalon, Mr. Choekyong Wangchuk accompanied by Mr.Palden Dhondup, Health Secretary, Mr.Jampa Phuntsok, Additional Secretary, Mrs.Tsering Youdon, Joint Secretary, and Mr. Namgyal Gendun, Deputy Secretary attended the meeting.
Today's virtual meeting at the other end had a participation of all the Tibetan settlement officers in Nepal, president of Lodrik Welfare Fund, officers of Snowline Foundation, SARD representative, Men-Tsee-Khang Doctors and SORIG Lhentsok representative.
The Chairman, Mr Tsultrim Gyaltso made an overall briefing of pandemic and measure undertaken in Tibetan settlements in Nepal, followed by all the settlement officers' updates on tasks related COVID 19 ranging from placing precautionary measures, public space sanitization, distribution of SORIG Immune boosters, and health screening etc.
In his address, Health Kalon lauded their committed service to the community in the midst of the COVID-19 health crisis and assured CTA's continued support and service to unique demands in these difficult times.
As a measure to curb the coronavirus spread, Health Kalon reiterated the importance of having quarantine centers to limit the opportunities for transmission of virus, helping to avoid a huge spike in cases that would overwhelm the health services. Although Nepal's fatality rate is estimated at around 0.3% and recovery rate at 70.9%, Health Kalon said, "The need to recognize the risk and develop the right strategies to contain the spread of the virus should continue to protect people. Additionally, the best approach is to start early testing which will result in early detection, isolation and management."
Health Kalon concluded his address with appreciation to all the dedicated nurses, healthcare workers, and all the frontliners who are actively engaged in protecting our community and slowing the pace of the pandemic.