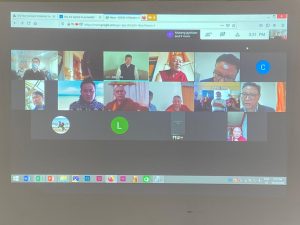 Dharamshala: Due to the surge in COVID cases in Mundgod and Bylakupee settlement, a virtual meet was held on 30th Oct chaired by Sikyong, Dr.Lobsang Sangay and Health Kalon, Choekyong Wangchuk with the settlement officers of Mundgod, Bylakupee; Lugsum and Delar, and along with its task force members, abbots of respective monasteries, health secretary, DoHe medical advisors and DoHe dealing officers.
Health Secretary, Palden Dhondup briefed on the department's preventive measures undertaken at Bylakupee and Mundgod settlements followed by discussions on challenges faced by the settlement.
Sikyong Dr. Sangay briefed on various measures undertaken by the CTA from the onset of global pandemic in Tibetan settlements across India and Nepal and said that settlements with bigger populace such as Bylakuppe and Mundgod were sanctioned higher budget to tackle the pandemic and has till date spent around 51 lakhs.
In total a sum of INR 6 million was spent to fight the pandemic and INR150 lakh was spent from CTA budget for all the settlements across India and Nepal.
The monastery abbots shared their current scenarios and challenges at their respective monasteries. They also shared their positive feedback on the Tibetan SORIG medicines and appealed for continuous support.
Health kalon appreciated the staffs of the settlements, monasteries and volunteers for their collective and tireless work during this unprecedented and challenging times. In his address, he lauded the health facilities' executive secretaires and medical staff for working tirelessly to help those affected by COVID 19 and meanwhile. requested the front-line warriors to keep the fight on.
The virtual meeting successfully concluded with clarification and guidance which would enable the southern settlements to fight this pandemic with collective efforts and cooperation.