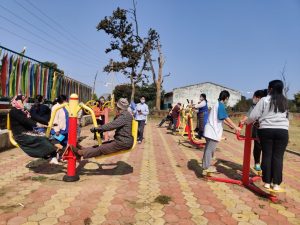 Dharamshala: The final leg of the health need assessment visit by the staff of the Department of Health, CTA across Tibetan settlements were concluded at Odisha last Thursday.
In addition to the assessment visit, the first-ever cooking contest, Zumba and Gorshe activity was held respectively at Odisha and Mainpat under the Healthy Lifestyle Campaign (HLC) to encourage physical exercise and healthy eating. The campaign received favourable participation and appreciation from the residents. A total of 11 candidates participated in the cooking contest at Odisha and enthusiastically prepared dishes ranging from dumplings made of Raggi and papaya fillings to traditional dishes like Kongthuk (porridge from Kongpo region of Tibet). The nurses of Menlha hospital prepared fruits salad and fruit juices as refreshments to increase and promote the consumption of fruits and vegetables. The cooking event was judged by the Settlement Officer, TMAI and TPHC Doctor. The contest was judged based on the presentation, texture, ingredients, and aroma.
Irrespective of age differences, everyone took part in the campaign and enjoyed a one-hour Zumba session at Odisha and Mainpat. The above activities were promoted to benefit physical health as well as mental wellbeing by the participants. Therefore, DoHe plans to continue such activity under the HLC campaign in the settlements.
Overall assessment of health programs viz; mental health, disability, MCH, Outdoor gym, substance abuse and WASH programs were carried out with different focus group discussions and one to one Q&A sessions. The discussion and assessment were successfully completed with the support of the Settlement Officers and Executive Secretaries of Primary Healthcare Centers.