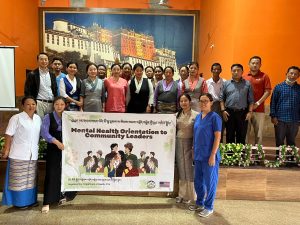 Dharamshala: The Department of Health, CTA successfully concluded mental health orientation to community leaders in 20 major Tibetan settlements in India with support from PRM and help from the local settlement offices and the Tibetan primary health centers. From 16 June to 27 July, the department's mental health dealing staff, Tsering Yangdol and Tenzin Chondhen, visited Tibetan settlements in central and northern India, namely Orissa, Mainpat, Bhandara, Delhi, Bir, Deckyiling, and Dharamshala. Simultaneously, the telepsychiatry project coordinator, Sherab Tsomo, and Mundgod's mental health dealing nurse Sangay Choezom visited southern settlements; Mundgod, Hunsur, Kollegal, and Bylakuppe and conducted the mental health orientation. Similarly, in Baluwala and Clementown settlements, the respective nurses, Dawa Choedon and Tseten Peltso gave the same orientation.
Thus far, the Department of Health provided basic mental health orientation to 563 community leaders in 21 Tibetan settlements in India.
The first ever mental health orientation was appreciated by the community leaders for its participatory mode of learning and ease in understanding the concepts making learning fun and relatable to their everyday lives. In addition, all the participants agreed on importance of having more such awareness and workshop sessions with the general public.
During the mental health orientation, the participants learned:
Understanding that mental health relates to every individual and not just to those suffering from mental health problems or their family members.
Anyone, irrespective of age and gender, can suffer from mental illnesses.
Mental illnesses have different causal factors. It is not an individual's fault that he/she/they suffer(s) from any kind of mental illness. There are treatments available for mental health problems.
All, unfortunately, agreed on the prevalence of negative stigma towards people suffering from mental health issues in the settlements. The leaders learned the negative consequences of it limiting anyone from seeking help, worsening their condition, and leading to the ostracisation of people who deserve the community's care and support the most.
All learned that reducing stigma begins with changing their own negative beliefs, actions, and feelings they held towards anyone struggling with mental health problems.
Lastly, all agreed on everyone, be it an individual, be it an NGO, a welfare organisation, a primary health center, health department, has the responsibility of building an emotionally healthy community today and tomorrow.
Along with the orientation, the dealing staff gave positive parenting and trauma-informed care workshops to parents and school staff, respectively.