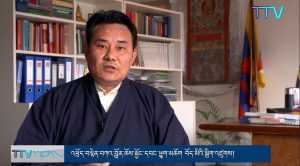 On 7th April 2021 amidst the pandemic department of health, CTA observed this year's World Health Day-themed "Building a Fairer and Healthier world." The department has launched several online videos related to healthy lifestyle campaigns such as live stream breathing exercise by Tulku Lobsang, Zumba Dance, and the making of healthy and colorful Roti (bread) on World Health Day.
The Department of Health, CTA under the guidance of His Holiness the 14th Dalai Lama, persevered since 1981 to provide equitable health to the exile Tibetan population.
The Department of Health has been working on various programs like Mother and Child Health, Substance abuse, Tuberculosis, Hepatitis, Physically challenged people, Mental Health, Tibetan Medicare System. Under the DoHe's Tibetan Medicare System (TMS), special considerations are being undertaken to afford the medical expenses of the destitute people. Likewise, under CCOCC programs, DoHe nurses pay door-to-door household visits to provide basic medical service in Tibetan settlements which has particularly proven very beneficial for the people with difficulty commuting.
Earlier TB disease used to be the most deadly and prevalent disease in our community, but with the consistent efforts to reduce TB cases, significant progress with 387 patients in 2012 has now reduced to 185 in 2019. Also, Hepatitis -B prevalence in Bylakuppe settlement was 8.9% in 2014, and research of 15 settlements with a population of 10,565 has shown a 7% prevalence of Heb -B. Another challenge being Stomach Cancer, A research study by DoHe suggests that H-Pylori bacteria is a factor leading to Stomach Cancer. The CTA is also conducting research to treat the bacteria by integrating the allopathic and Traditional Tibetan Sorig approach. The research study shows that the prevalence of H-pylori is almost 50% from a study sample of 623 people.
He also mentioned that with the rise of sedentary lifestyles there seem to be rising numbers of diseases like Hypertension, Diabetes, and Thyroid disorders. And these diseases can be taken care of by being mindful of our diets, at the same time monitoring the intake of alcohol, smoking, other intoxications, and sedentary lifestyle.
Throughout the pandemic, the Central Tibetan Administration (CTA) via the Department of Health (DoHe) continues to provide various preventive as well as welfare facilities for the underprivileged population like quarantine centers, COVID-19 Care Center (CCC), Medical Expenses, Sanitizers, Active and Passive Screening, testing facilities (RT-PCR and Rapid) tests, counseling services and relief packages to the most vulnerable groups of the community.
To sum up, the department of Health reached out to the entire population of our community equally with a total expenditure of around 115 million INR on precautionary measures till March 2021; the expenditure in India being 94.2 million INR and 21.6 million INR in Nepal.
Similarly, the other departments of CTA have contributed during the Pandemic.
Health Kalon in his address stated that everyone has experienced tremendous hardships and continues to endure unprecedented hardships due to the COVID-19 pandemic, Especially, those who are underprivileged and have poor access to health care facilities. Thus this year's theme resonates with the current scenario.
He concluded his message by urging everyone to take steps towards a healthy lifestyle and emphasized that everyone should get the vaccination when eligible and continue to take the basic precautionary measures to triumph this pandemic together.