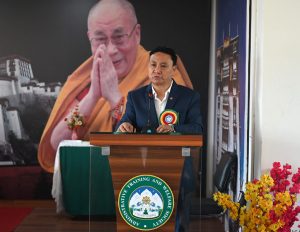 Dharamshala: The Department of Health organised a workshop for awareness and enrolment campaign for Tibetan Medicare System (TMS) for the year 2023-24 at the administrative training centre today.
Secretary Palden Dhondup presided over the workshop attended by Additional Secretary Jampa Phuntsok, trainer Alok Gupta, Joint Secretary Tenzin Kunsang, TMS staff Pema Youdon and the Directors of PHC and health workers.
Addressing the establishment of the TMS, Health Secretary reiterated the vision, evolution, and the importance of self-sustenance of the programme.
Additionally, settlements that surpassed the target enrolment goal were distributed certificates and cash rewards. Tibetan communities such as Dharmashala and Norgyeling settlements were the award recipients, while settlements close to the target mark also received the certificates.
TMS program officer Pema Youdon explained the aim of the workshop was to give an introduction to the new members and set the goal for the fiscal year 2023-24 based on the population of each settlement and likewise, to raise awareness among the public of the TMS programme and make it more efficient. She added that it made up for missed opportunities due to the pandemic restrictions for the last three years. This year's conference saw 47 participants from 40 settlements.
The workshop is funded by USAID through TTF. The TMS programme was initiated in 2012 and 9774 members enrolled in it. This year marks the 10th anniversary of its establishment with 24101 members enrolled, bringing it to forty per cent of the exile Tibetan population.