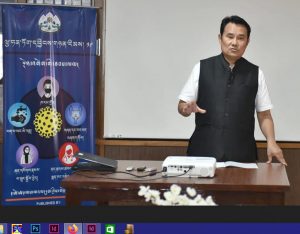 Dharamshala: The Department of Health, CTA marked the "World Breast Feeding Week", observed from August 1-7, by through a screening of 5-minute long awareness videos on the theme of breastfeeding. This is a part of video contest that the department organised ahead of the World Breastfeeding week in order to educate expecting mothers on the significance of breastfeeding and its long term health benefits for the child as well as the mother.
The event began with the announcement of winners and screening of their video presentations: Tenzin Norzin (nurse), Tenzin Wangchuk (doctor) and Lhakpa Wangyal won the best three, and Tenzin Sangmo, Tenzin Nordon and Tenzin Nordon were selected for the consolation prize from a total of 16 participants. The winners were adjudged based on the grading assigned for their messaging and content matter. The winners received the prize money of 8000, 6000 and 4000 rupees respectively.
Health Kalon Choekyong Wangchuk who officiated the occasion briefly speaking on the importance of the event.
"International Breastfeeding Week" is observed every year globally from August 1-7, and the Health Department of CTA conducts awareness campaign to educate the public about the necessity of breastfeeding for both the mother and child. The video contest arranged has seen a good number of participants and their enthusiasm and the content produced by them indicates the success of the programme," Kalon said.
"In our Tibetan culture, breastfeeding has always been given due importance. With the growing understanding of its benefits, the international community has subsequently recognised it as an international day to increase public awareness."
Health Kalon cited research data that states timely breastfeeding prevents mortality rate of around 1.8 lakhs of the population. He further highlighted the scientific evidence that reveals breast cancer and ovarian cancer is prevented in mothers who breastfeed and the economic rationale for saving 3.2 billion dollars globally.
Kalon emphasised His Holiness the Dalai Lama's teachings on the benefits of mother's love and compassion, adding the value of compassion inculcated through the nurturing act of a mother.
He pointed out the Heath Department's CCO programme that educates new mothers on techniques for breastfeeding, diet plans and more.
While advising mothers to not fall under the traps of unreliable studies that are profit-oriented, he appealed to the healthcare workers to dedicate full efforts to educate the public.
He concluded by thanking the Health education section, Disease prevention committee, healthcare workers at the settlements for their commitment on its collective effort.Read the original article here