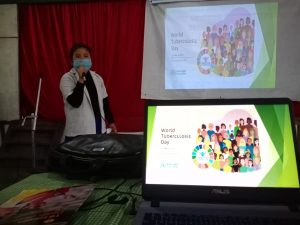 Dharamsala: World TB day is commemorated annually on March 24 to educate the public about the impact
of TB around the world. This year WHO has selected "The Clock is Ticking" as the theme of the day.
Based on the theme, awareness activities were conducted at various Tibetan Settlements in India.
Even though the COVID-19 pandemic has set back our efforts to eliminate TB in our settlements and around the world, it is high time for us to escalate our effort in reducing the number of TB cases.
A panel discussion was organized on Tibet TV by the Department with the invitation of Dr. Sonam Topgyal from Delek Hospital and Dr. Lungtok from Tibetan Medical and Astro Institute. The panelist explained the signs and symptoms of Tuberculosis and its preventive and treatment methods based on both
allopathic and traditional Tibetan Sorig methodologies. The panel discussion was broadcasted on World TB day on all the social media platforms of Tibet TV and the department of Health for raising awareness among the general public. On this day, the emphasis was drawn on the importance of partnership and initiatives from the public, especially from the organizations with a large number of inmates in reducing the number of TB cases.
At Bir Tibetan Settlement, the branch health center nurses carried out awareness by sticking posters, a public talk, and by demonstration of hand washing and cough etiquette at Zabsang monastery. The awareness was made in both Tibetan and other languages understandable by the monks of the monastery.
At Kollegal, the nurses arranged an experience sharing by two TB patients on their journey to TB
cure. At the same time, to make the event more interesting, they were able to arrange a TB educational dance by five volunteer kids followed by a screening of a short animation on TB.
At Ravangla, the day was observed with a health talk by Dr. Pallavi, Medical Officer of PHC Ravangla.
At Tashijong, the nurse did TB screening (active case finding) to 54 monastic students where the nurses asked for TB symptoms like; cough for more than two weeks, cough with blood in sputum, pain in
the chest, Fever, loss of weight, etc. No students were reported with any of the TB symptoms.
At Tenzingang, the nurses attended the TB awareness program by the District TB officer on 24th March 2021, and the next day they presented on TB causes, S/s, Diagnosis, treatment, prevention and diet intake to 27 settlement people and 72 students. They also stressed on the importance of TB diagnostic tests upon symptomatic.
At Mainpat, due to COVID-19 cases, the nurses could not gather public, hence communicated the message by sharing TB animation and videos in the community WhatsApp group.
At Delhi, Health Talk was given to the public on TB prevention and symptoms. Similar awareness talks were given to the rest of the settlments.