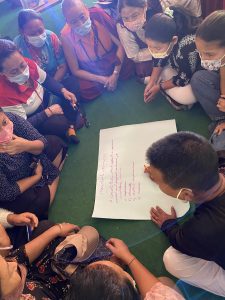 Dharamsala: The Department of Health, Central Tibetan Administration, successfully launched its pilot telepsychiatry project IMPACT-T (Improving Access through Telepsychiatry in the Tibetan settlements) on the World Mental Health Day last Sunday.
This year's theme was "Promoting wellbeing during COVID-19 pandemic". The Department of Health observed the day with a series of
talks on topics -Understanding Mental Health, Mental Healthcare System in Low Resource Settings, Common Mental Disorders in Exile Tibetan Community, Science of Wellbeing, Mind Training, and Managing Grief and Losses during COVID-19 Pandemic by expert speakers such as Dr. Carol Weingarten, Dr. Abhijit Nadkarni, Dr. Dorjee Rapten Neshar, Dr. Tawni Tidwell, Geshe Lharampa Dorji Damdul and Dr. Nivedita Chalill.
Along with the above virtual programs, the Department, in partnership with Tibetan primary health centers (TPHC) and Tibetan Settlement Offices, celebrated this day for the first time in Tibetan settlements in India by organizing participatory awareness sessions. About 267 Tibetan refugees of all ages and genders, following strict COVID-19 precautionary measures, participated in these sessions from Ladakh, Bylakuppe, Miao, Dickyiling, Mandi, Lakhandwala, Kollegal, and Bir settlements. The sessions saw group discussion on the following key points: Understanding mental health, mental illnesses, and Self-care and Self-compassion followed by guest talks by Psychiatrists, Tibetan Medicine Physicians, and TPHC clinic physicians, and some fun-filled activities. The sessions were moderated by staff nurses and healthcare workers of the TPHCs. Some settlements celebrated this day in collaboration with local Men-Tsee-Khang branches and hospitals.
Promoting awareness on emotional hygiene in the settlements is a priority of the Department. Hence, celebrations like this were a stepping-stone towards building a more emotionally healthier society.
These events were supported by PRM.