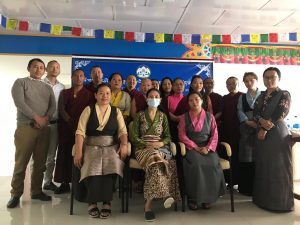 Dharamshala: The two-week orientation workshop on Allopathy Medicine for Traditional Sowa Rigpa physicians commenced today under the Traditional and Allopathic collaboration program at LTWA with the goal of improving community health through better integration of traditional Tibetan SORIG and Allopathic medicine.
The workshop was attended by 15 participants from seven different medical institutes like TMAI, Chagpori Tibetan Medical Institute, CIHTS Varanasi, Palpung Sherabling, Menri Ling Bumshi College and private practitioners as well.
The inaugural session was presided over by the Health Joint Secretary as a chief guest. She emphasised the significance of improving public health and raising awareness on disease prevention and urged them to practice their knowledge in their respective settlements keeping the objectives and importance of the integration project in mind.
A total of 40 sessions including both theory and practical practices will be provided by the Allopathic doctors. Introduction on basic allopathic medicines, report reading, first aid, NCDs, Oral health etc will be covered.
A separate week-long Traditional SORIG orientation workshop will commence on 26th Aug 2022 at LTWA.