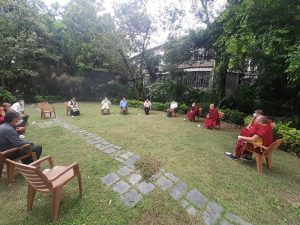 Dharamshala: The post KAP survey on qualitative research is being conducted at Mundgod, Bylakuppe and Ladakh settlements by Department of Health to identify major behavioral factors that influence healthy lifestyle in the Tibetan community in India. The data collected in the aforementioned Tibetan settlements began on 16th September and will be completed this month.
In 2019, a series of strategic planning workshops took place in the Department of Health with the aid of USAID to review health areas to be targeted with SBCC and define key themes, messages and activities. Prevention of non-communicable diseases (NCDs) including diabetes, hypertension, obesity, precursors to stroke, heart disease, cancers and dementia, that are responsible for an increasing burden of disease and death among the Tibetan community was prioritized. Prevention of NCDs is complex, and involves the consistent practice of multiple healthy behaviours, which the DOH collectively calls adopting a "Healthy Lifestyle (HLS)."
Under the guidance of Susan Shulman, the SBCC consultant on pro bono basis, more than thirty activities were implemented through social media to adhere COVID appropriate behavior. This includes healthy eating and exercise in the form of Zumba and yoga.
The post KAP survey is being carried out by Dr. Tenzin Namgha and her research assistants Tsewang Wangmo, Thupten Lobsang and Tenzin Tseyang with the help from Susan Shulman. The qualitative study involves In-Depth Interview (IDIs) and Focus Group (FGs) with key informants ranging from monks, nuns, home makers, youth leaders, head of PTA (Parent-Teacher Association) and doctors. The study was aimed at improving the Department of Health's understanding of how the past campaign was received by audiences and to adopt the recommendations from this finding in future plans.
The post quantitative survey has been circulated in August through Social Media and is still open for general public to give their feedback.
Here is the link to the survey in English and in Tibetan.