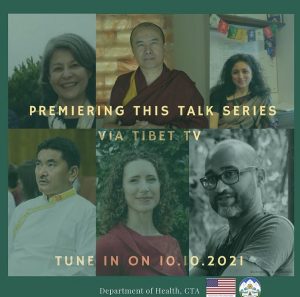 Dharamsala: Marking this year's World Mental Health Day, the Department of Health, Central Tibetan Administration is launching its pilot telepsychiatry project IMPACT-T (Improving Access through Telepsychiatry in the Tibetan settlements).
This year's theme is "Promoting wellbeing during COVID-19 pandemic". Along with the launch of the IMPACT-T project, the Mental Health desk of the Department of Health is observing the day with a series of virtual programs creating awareness on the pilot project and mental health in general.
Sikyong Penpa Tsering will deliver the inaugural speech on the day followed by talks on topics -Understanding Mental Health, Mental Healthcare System in Low Resource Settings, Common Mental Disorders in Exile Tibetan Community, Science of Wellbeing, Mind Training, and Managing Grief and Losses during COVID-19 Pandemic by expert speakers such as Dr. Abhijit Nadkarni, Dr. Dorjee Rapten Neshar, Dr. Tawni Tidwell, Geshe Lharampa Dorji Damdul and Dr. Nivedita Chalill.
IMPACT-T is being implemented in collaboration with Sangath, a mental health NGO based in Goa. IMPACT-T is an adaptation of Sangath's IMPACT project.
The day's event and the launch of the IMPACT-T will be premiered on Tibet TV's official Facebook page on 10th October 2021.