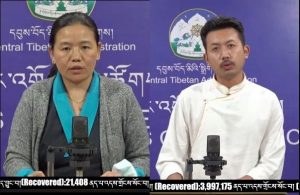 Dharamshala: Recent surfacing of new coronavirus cases among Tibetans in Dharamshala who had just returned from outstation trips has prompted the CTA task force to renew public appeals to avoid non-essential travels and keep up social distancing at all times until the cure is available.
In a COVID briefing on Thursday, Dr Tenzin Tsundue, task force appealed the public to understand the gravity of the pandemic, and if possible, refrain from undertaking any trips that are not absolutely necessary.
"Several new cases have been reported recently, all after returning from various trips outside Dharamshala. Unless it is absolutely necessary, avoid all travels," he said.
With the winter season just around the corner, Dr Tsundue also warned that COVID threat could get more lethal now as people will be drawn indoors in enclosed spaces and the lack of ventilation could increase the risk of exposure to the coronavirus.
"This suggests the need for people to wear a mask even within the spaces of their homes and any public places. Practising respiratory and hand hygiene and social distancing at all times will be crucial during the winter months."
As viruses tend to survive longer in a cold and dry climate, the winter season also increases risks for those with respiratory illnesses such as pulmonary TB and pneumonia, making them all the more susceptible to developing severe COVID complications.
"WHO has declared Nov 12 as World Pneumonia Day and based on acclaimed researches as well as SORIG medical sciences, tackling these respiratory diseases is more critical than ever to prevent the spread of COVID," said Dr Tsering Tsamchoe, presiding over the weekly briefing.
Meanwhile COVID cases in Tibetan communities in India and Nepal has risen from 1031 last week to 1165 this week, with 134 new cases reported.
The highest number of cases was reported from Suja with 66 cases, followed by Ladakh with 27 cases, Mundgod with 10 cases, Delhi 5, Chauntra and Orissa with 3 cases each, Dharamshala 2, Mainpat 2, Dalhousie 2, Dekyiling 2, Darjeeling 2, Hunsur 1, Miao 1, Clement town 1 and Rajpur 1. Nine cases have been reported from Kathmandu, Nepal.
Unfortunately, three elderlies, two from Ladakh and one from Bylakuppe have passed away this week succumbing to COVID.
While the Wuhan-originated virus has so far worst hit Tibetan communities in Mundgod, Ladakh and most recently in Suja, Dr Tsamchoe, however, clarified that there are no severe complications in any of the cases.
She acknowledged the hard work of Tibetan COVID emergency committees across all the settlements, schools, other campuses who are working around the clock to ensure all necessary measures are being taken to tackle new cases and mitigate as well.