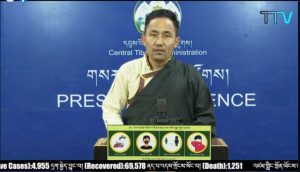 Dharamshala: Deputy Secretary Nyima Gyaltsen, Health Department while addressing the 36th COVID19 task force briefing today urged the Tibetan community to keep up their guard against COVID-19 and continue taking thorough precautions.
He warned against rumour-mongering and stigmatization against Covid patients which have found to hamper contract tracing efforts and in the end, weaken the overall management of the pandemic.
Noting the undiminishing severity of Covid in the state, Dr Tsundue said several districts in Himachal including Shimla, Mandi and Kangra are among the hotspots. He also said the risk of a second wave in the approaching months cannot be ruled out and advised continued precautions.
On the Pfizer vaccines approved by the UK, Dr Tsundue said its effectiveness still needs to be assessed.
Dr Tsering Tsamchoe noted the global rising trend, in particular, the hospitality industry's increasing vulnerability and exposure to Covid. She added that while the Pfizer vaccine was approved by the UK for clinical use, it will take more time to be freely available for the public. Meanwhile, she urged for continued precautions such as masking, physical distancing and keeping a robust immune system.
Dr Tsamchoe updated new cases reported this week- a total of 47 cases in India and Nepal of which 46 is from India and 1 is from Nepal: 1 from Bhandara, 1 Bylakuppe, 1 from Clementown, 4 from Delhi, 8 from Dekyiling, 18 from Ladakh, 8 from Mainpat, 3 from Rajpur, 2 from Mundgod. 19 are male and 28 female, 26 symptomatic and 21 asymptomatic, the oldest is 92 while the youngest is 6 with 3 deaths. The COVID status of Tibetan community stands at 1321 cases, with 1154 recoveries, 34 deaths and 133 active cases.
She reviewed CTA's COVID efforts reporting the quarantine status: of 519 total quarantine population, 362 are in CTA facility and 216 in home-quarantine. The mental health helpline initiative has contacted and provided counseling to 40 members who tested positive this week. Prevention awareness committee has distributed posters sharing guidance in Tibetan, English and Hindi. Mass testing is underway in Tibetan settlements in India and Nepal and has covered 1,144 people so far. Routine sanitization is also being carried out.