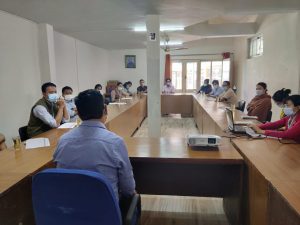 Dharamsala: Cases of COVID-19 has been on the rise ever since unlock phases in India began. The recent unlock 5.0 guideline allows further relaxation of activities, such as opening of schools and colleges etc. Hence, until vaccine becomes available, Contact tracing remains an essential component of the toolbox for containing a disease outbreak. This is especially true for a disease such as COVID-19, which can be spread by people who have no symptoms.
Dharamsala being the residential town of His Holiness the Dalai Lama and also the seat of CTA's headquarter, surge in COVID 19 cases in the district is worrisome requiring collaborative initiatives to tackle outbreaks. On 29 September,2020 and 5 October, 2020 respectively, Department of Health, CTA organized training on COVID -19 contact tracing to the identified contact tracers of respective departments of CTA and the representatives of proximate 14 Tibetan organizations in three batches which includes monasteries, schools and NGO's.
The department believes that the training will be beneficial in containing the spread of the virus. Department urges each and every individual to continue practicing proper masking, social distancing and hand hygiene. These simple steps remains the key to fight against the pandemic.