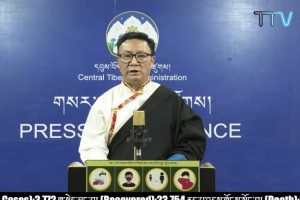 Dharamshala: Following Kashag's revamp of the CTA Covid-19 Emergency Task Force, its Chair Palden Dhondup, Secretary of Health Department, on Thursday briefed on the positivity rates in the first two waves and preparedness for the oncoming third wave. He also issued new measures and guidelines as follows:
1. As per the Department of Health's estimate, the timeline for the first wave of Covid-19 in the Tibetan community in India and Nepal is as such: May 2020 to February 2021 as the first wave, taking into account the first case reported in May. In this timeline of 1st wave, the Tibetan community reported 1566 cases and 40 deaths constituting a monthly average of 156 cases and 4 deaths.
Similarly, In the second wave, i.e., March-May 2021, 2453 cases and 82 deaths were reported with a monthly average of 817 cases and 26-17 casualties. As of Thursday, 102 patients are admitted at Tibetan Health centres under the DOHe.
2. After due deliberations at the Covid-19 Task Force meeting convened on 2 June, led by the Health Department, it was decided that Health Department will entirely bear the cost of treating mild and asymptomatic cases effectively from 1 June.
3. In the phase-wise vaccination drive, currently targeting the 18-44 age group, the Health Department as per Sikyong's direction, is making arrangements to procure vaccines from the state government as vaccine accessibility has become increasingly hard across the country.
4. In preparedness for the third wave which experts predict to be more dangerous for the children, the department shall dispense Sorig immune boosters to the priority group of 4-17 and those unvaccinated in the age group of 18-44. Most schools have been covered under this initiative, including TCV except Ladakh and Bylakuppe. The drive will soon cover Mussoorie Homes and branch and Sambhota schools. So far, the Sorig immune boosters have been distributed to 35,000 beneficiaries.
5. The public is appealed to hold Saka Dawa prayers remotely from homes, instead of holding prayer assemblies in violation of COVID-norms.
6. Settlement Offices are directed to enforce strict adherence to lockdown and ensure no gathering takes place.
Dr Tsering Tsamchoe updated the COVID-status of the exile Tibetan community, which reported 296 cases this week (189:M and 107:F) with the oldest aged 66 and youngest aged 2. Unfortunately, 8 people succumbed to the disease this week.
Dr Tsamchoe appealed for sustained precautionary measures cautioning about the rising toll in India and highlighted the importance of mental health and post-COVID care in attaining complete recovery. Likewise, she advised physical exercise and limiting the amount of screentime usage during the lockdown.
Dr Tenzin Namdon clarified that long-COVID syndrome continued to affect many especially elders and advised seeking consultation with doctors for post-Covid symptoms and stressed on a good diet and adequate exercise for recovered individuals.
Here's an overview of the Covid-19 management and testing efforts: A total of 603 are currently under home quarantine and 456 admitted at institutional quarantine. 35,798 Sorig-immune boosters have been dispensed free of cost. 114 patients this week have received Mental health counseling. Mass testing has covered 1409 Tibetans this week across India and Nepal. The vaccination drive has covered 17,770 Tibetans as of Thursday, 3 June.