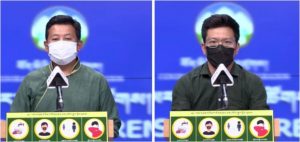 Dharamshala: Addressing the weekly covid-19 briefing, the central taskforce committee urged continued precautions despite the daily fall in covid cases.
The Tibetan community in India recorded 1 case this week out of the 24 that were tested. As for the inoculation status, the Tibetan community in India has so far vaccinated both doses to 51,733 individuals including those below 18 years. Around 766 have been vaccinated with the first dose. In Nepal, the total number of complete vaccinated stands at 7238. Meanwhile, the booster shot in India has been disbursed to 4463 individuals above 60 years and 589 frontline workers. Similarly in Nepal, 221 individuals have received the precautionary dose.
The procurement of more booster shots is underway as Health Secretary Palden Dhondup has held a meeting this month with Tibetan doctors and settlement heads on the same.
Over the prolonged years of the covid outbreak in India, the PRM of the US has contributed around 100 million to CTA covid preventive measures.
Doctor Ugyen of Delek hospital cautioned against reckless behaviour despite the drastic decrease in cases while indicating the probability of cases getting increased if people start throwing caution to the wind.