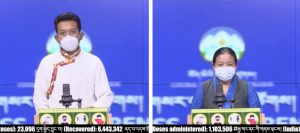 Dharamshala: Addressing the 83rd Central Taskforce briefing on Covid-19, Dr. Tsamchoe updated the overall Covid status in the Tibetan community across India and Nepal, reporting 32 new cases and 2 deaths from the Covid. Among the new cases reported, 22 are male and 10 are female. The oldest among them is 82 years old, while the youngest is seven years old bringing the total number of cases to 6736 out of which, 6528 people have recovered. At present, there are 53 active cases and the total death count so far is 155.
As for the vaccination status, the data received by the Department of Health, CTA states that a total of 44,078 Tibetans in India have received complete vaccination while 7,228 are partially inoculated. Likewise, 6697 Tibetans in Nepal are completely vaccinated and 51 yet to inject the second jab.
Reviewing the covid status of India, Amchi Tsamchoe informs it is relatively stable as the country records a decline in cases and fatalities. "However, the government is working toward improving the situation, and meanwhile people need to ensure that all the covid appropriate measures are well abided especially during the festive season," she said.
As Tibetan sweater sellers embark on their winter business, the Central Taskforce Committee appeals to the Tibetan Sweater Sellers' Association to ensure undelayed safety and precautions throughout the business period.
Even though the covid situation in the Tibetan settlements is well under control, the settlement heads are instructed to immediately contact the Health Department in case the situation of the pandemic deteriorates in any of the settlements.
Warning the public of a possible surge in the covid cases during the festive season, Dr. Tsundue advises extra precautions ahead of the festivity. Meanwhile, school authorities are instructed to assure the highest standards of safety and to have essential services prepared ahead.
Although the vaccine coverage in the Tibetan community stands positive, there is still a certain reluctance among senior people when it comes to getting the jab which is mainly induced by the widespread misinformation surrounding the vaccine. Stating the safety and efficacy of the vaccine, Dr. Tsundue calls on older adults to get themselves vaccinated at the earliest.