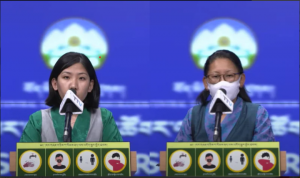 Dharamshala: Addressing the 109th Covid briefing, taskforce committee member Under Secretary Tenzin Dolkar reported a new and two active cases from 31 tests conducted during the past seven days in Tibetan Community of India and Nepal.
Elucidating the vaccination records of Tibetan community, Tenzin Dolkar illustrated 51,216 complete and 271 partial vaccinations in India above 18, at the same time, reporting 7,129 fully jabbed Tibetans in Nepal. In addition, 1,993 Tibetans below 18 in India and 109 in Nepal received both the first two shots of the Covid vaccine, while the former has 379 partly vaxxed. Moreover, 5,609 elderly Tibetans in India and 216 in Nepal got booster shots along with 591 frontliners.
Up until now, 9,153 Tibetans were reportedly infected by the virus since its emergence, from which 8,983 recovered and 168 died.
Apart from the Covid data, the Under Secretary also illuminated the audience on causation and prevention of Hepatitis-B endemic in Tibetan society given its transmissibility.
She further informed about the meeting of the Taskforce Committee headed by the Secretary of Health Department, CTA assembled on 3 May, during which preparations for the prospective fourth wave were tabled.
Presenting the number of new cases in the world and India, Dr Jigmey Kalsang of Delek Hospital advised Tibetans to continue following Covid guidelines and urged everyone to complete vaccination if they are yet to finish.