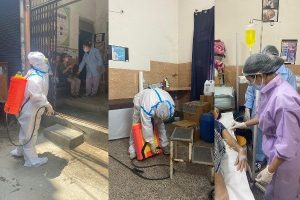 Dharamshala: India's national capital remains one of the worst impacted regions with Covid surge since the deadly second wave, with 19,832 new cases in the last 24 hours and so with an increasing number of cases among Tibetans in the capital.
Bearing the brunt at the frontlines are the nurses of the Tibetan primary health centre, Delhi that continues on an unrelenting fight against the pandemic who have been providing much-needed care, guide and treatment for the Covid-19 patients since the pandemic struck.
The TPHC fills up daily with a minimum of 10-15 patients both symptomatic and asymptomatic with the nurses attending to all these cases in addition to providing door-to-door treatment and care for those who could not visit the clinic.
Under the guidance of Dr Nyendak and in collaboration with doctors of Tibetan medical and Astro institute Delhi, the nurses of TPHC Delhi have been treating mild and moderate cases.
They vigorously monitor those kept under home isolation with suspected symptoms and the primary contacts for any signs of deteriorating health who are provided both allopathic and Tibetan medicines for immunity boost. The nurses also render door-to-door treatment and care for those who cannot visit the clinic.
On top of all this, they also carry out the strenuous task of routine contact tracing and those in isolation to stem the spread of the deadly, mutating virus.
Besides, the TPHC nurses also guide patients with diet planning, promote awareness on prevention of COVID-19, mental-health support and counsel whenever required.
Despite the physical, mental, emotional toll and the imminent risk to their lives, the nurses of Samyeling Tibetan settlement, Delhi stays on duty day in and day out, with no respite, to ensure that everyone else is safe.